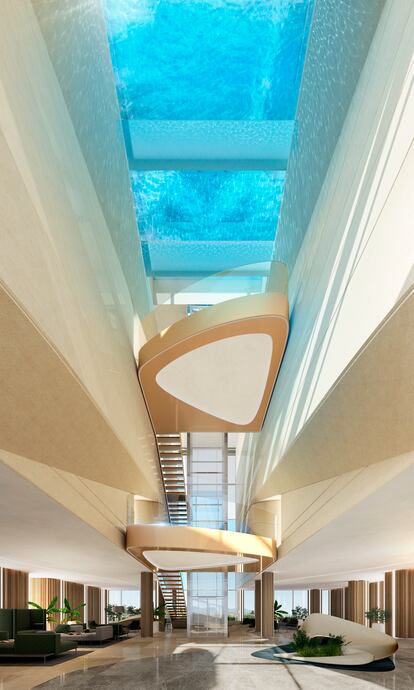 Aspect of the Liora Estepona by Pininfarina project.
The brand is no longer just the name that heads a product to be an identity in itself, associated with the trajectory of a company. A trend that is leading to more and more construction companies joining home promotions with luxury brands to position themselves in the same category.
Although the most striking examples of branded residences are located in Miami —Porsche Design Tower, Residences by Armani Casa, Fendi Château… -, this concept of real estate luxury is taking hold in Spain thanks to well-known brands such as Mandarin Oriental Residences, in Barcelona ; Four Seasons Private Residences, in the iconic Canalejas Center in Madrid, or EPIC furnished by Fendi Casa, in Marbella.
"The construction company tries to convey that its project shares the same standards and qualities as those brands that accompany it. And since construction is really what is hidden from the naked eye, they need the visible to support and represent them, "explains Andy Stalman, an expert on brands.
This new trend in the real estate market is opening the door for many potential home buyers to be willing to pay more to live that experience, for belonging to the exclusive group that will be part of one of the luxury residential projects signed by international fashion brands. .
Salón de EPIC Marbella furnished by Fendi Casa.
"I live here" is already a declaration of intent on the Costa del Sol, where the EPIC Marbella furnished by Fendi Casa project is being marketed, 56 homes in an urbanization with services typical of a five-star luxury hotel, decorated by the Italian firm Fendi Casa, the luxury furniture sector division of the prestigious company specializing in fashion, in a pioneering collaboration with the Spanish developer Sierra Blanca Estates. Fendi belongs to the LVMH group. Currently under development, with more than 200 million euros in sales, the price of each of these homes decorated by the luxury brand ranges between 2.5 and 7 million euros.
But EPIC Marbella is just a preview of what is to come: the development of the first residential project in Spain under the name Karl Lagerfeld Villas Marbella. Once again, the promoter Sierra Blanca Estates teams up with an iconic fashion firm to build a real estate project never before conceived in our country, the details of which will be presented on November 18 at the Karl Lagerfeld offices in Paris.
Exclusive villas
"We conceived the dream of creating the five most exclusive villas in Marbella together. Karl Lagerfeld firm participates in interior design, architecture, marketing…; he forms a team with us and together we make the decisions to advance in any aspect of the project ", highlights Carlos Rodríguez, general manager, together with his brother Luis, of Sierra Blanca Estates. "Sustainability, biodiversity, resilience and green architecture are the pillars of Karl Lagerfeld Villas Marbella, which in turn has the most exclusive qualities and materials that exist in the current luxury residential market, becoming a revolutionary project worldwide", describes.
Still pending development is what will be another branded architectural landmark on the Costa del Sol: Liora Estepona by Pininfarina, a biophilic architecture project consisting of 37 fully customizable smart homes, which Colliers International will market from 1.5 million euros. euros. Once again, an Italian luxury firm, Pininfarina, a studio that created car designs such as the Ferrari Testarossa, is loved by the Spanish residential market, this time with the help of the developer Excem Real Estate.
For Luis Valdés, director of Residential Sales Advisory at Colliers, "when you are positioning yourself in the luxury market, having a brand behind it is an added value that adds up. The branded residences [viviendas con marca] associated with luxury services is a trend that is reaching Spain, especially the Costa del Sol ". "Our experience in projects such as Four Seasons Residences, 22 exclusive homes in the Canalejas building in Madrid, sold in a year and a half, leads us to affirm that perhaps they would never have been sold at the average price of 4.7 million without having a recognized brand behind ", he points out.
011h, technological construction company
The founders of Privalia, the leading online shopping center in Spain that is now part of VeePee with more than 7,000 associated brands, have managed to transfer their commercial philosophy to a new real estate project, 011h, a new generation construction company with a B2B model, for what your clients are also promoters. "Privalia has a software engineering culture that makes technology enable the online business model. Similarly, at 011h we believe in industrialized and sustainable construction, and we understand that technology should help us make it possible. For this reason, the engineering culture, also in software, is part of the DNA of 011h ", says José Manuel Villanueva, co-founder of Privalia. 011h uses technology and data to connect all phases of the building construction and operation process in order to detect inefficiencies and constantly improve the process.
Along with Lucas Carné, also co-founder of Privalia, the 011h team has been joined by other entrepreneurs who share this technological vision with the brand, such as Josep Barberá (Privalia and Mango), Alex Valls (Social Point and Exoticca), José Ojeda (GFG and Lyst) and Juan Velayos, former CEO of Renta Corporación and Neinor.
Its first residential project, Life Habitat Hospitalet, in Barcelona, ​​is a pioneer in Spain in the Construtech trend, which is committed to technology for the optimization of processes. This industrialized promotion, which has managed to reduce carbon emissions by 68% during the entire life cycle of the building, is made up of 40 types of components, executed with 23 manufacturing processes and materialized in just four weeks of assembly, reducing the time construction by 40%.
To carry out Life Habitat Hospitalet, 36 suppliers (Knauf Insulation and Cosentino, among others) have collaborated with a digital support of their own development from the beginning to the end. "This support is the knowledge that we take from Privalia and that we want to implement and show the sector. All this from a very humble perspective, understanding change as disruptive, but also as an opportunity for innovation and evaluation, which will impact decarbonization, as well as the diversity and professionalization of the profiles of construction companies, "concludes Villanueva .
---