Applause. Much applause. The show starts. The curtain has not risen, but, in this hyperconnected and digitized world, the button of play. That's how it is. From home. Whoosh! Ella Fitzgerald has taken the stage in her reflective dress and long dangling earrings. Those pearl tears shake laughing like dancers accompanying the autumnal song of the great lady of jazz. How can you sing so deeply and with such a clear smile at the same time? She doesn't dance, she just sways, and from time to time, she follows the rhythm of the band by snapping her fingers. He's doing it now, singing April In Paris. Applause. Much applause. The public in Paris goes crazy. Fitzgerald snaps his fingers, smiles, and knows how to win over the respectable. It is 1957, but the same could be said in 1962, accompanied by the immense and very fine Oscar Peterson. The big pianist plays with her again in Paris, this time at the Olympia, and his gold ring sparkles on her little finger. Run your hands over the keys with your eyes closed, as if praying, entering a spiritual climax. The most awaited moment arrives: She begins to do her characteristic scat, he sings about melodies and rhythms improvising, he does not understand it at all, there is no sense in what he says, but, while he puts his hands to his face and then claps his hands, he cannot stop listening, to follow that swallow doodling inside of the swing.
More information
There are two Ella Fitzgerald concerts, but there are three more. Performances in black and white, as if the memory only allowed us to access them under that prism. They are part of the collection Jazz concerts from Filmin, the platform specialized in classic and independent cinema. An extensive catalog made up of 64 performances, which during one season were 71. Jazz in black and white, but also in color, although in old tones, like stamps from another era of this sleepwalking sound. Sneaking into all these performances results in this article. 71 concerts seen and heard on a journey to the heart of jazz. A television journey, but a journey after all to the glory of a genre that transformed the American spirit and gave the 20th century an unparalleled appeal. Music that shapes the present until it breaks into pieces of rain or shots of snow.
It is the turn of Louis Armstrong, the best face of jazz, the first great genius. Accompanied by the All-Stars in 1959, he blows the trumpet as if he were carrying an elephant drunk with happiness. His eyes go out of that round face, they look for outer space like flying saucers, they try to communicate with the public and the afterlife, while the trumpet is pure hot from New Orleans, fiery rhythm that reminds us of the joy of life, as also happens in the concert of the pianist Sammy Price and his band, classic jazz orchestral of NOLA. Later, Armstrong dances and sings to the mammoth Velma Middleton, so light in her jumps that they look like special effects. They both laugh. Armstrong's laugh is the laugh of jazz, the sound of another possible world.
Thelonious Monk at his 1963 concert picked up by Filmin.
That world is full of names on this television journey: maestro Duke Ellington, forcing his band to salute and leading his feast of jungle sound; the marvelous Sara Vaughan, crying sorrows with impossible fragility; the very elegant Dexter Gordon, who should always be listened to with the right liquor in the body. Gordon's is not the only sax that spits wonderful liquid fire. Change of scenery and John Coltrane with his quartet left in 1965. They interpret Crescent, Naima and My Favorite Things, memorable performance, starfire. There is an ethic to that luminous deconstruction, expanding in all directions like a growing galaxy. Among the weak performances, for sound and realization, the joint of Oscar Peterson and Roy Eldridge in 1963.
They are all European performances, especially in France. Apart from the racial dilemma, nailed to the chest of the United States from its origins, Europe always knew how to understand that jazz was a great art. An art with Chet Baker kissing the trumpet, needle with which to sew his soul. He is seen in 1964, still with ephebian beauty, before his face ends up bruised by the heroin. An art also with Bill Evans, hunched over the piano, with his mustache, long hair and glasses, like a mad genius preparing a potion. The camera is fixed in your hands gliding quickly on the keys. During the Standard Autumn Leaves A watch appears, that "chain of roses", that "dungeon of air", according to Julio Cortázar, a lover of jazz, a persecutor of its mysteries. Perhaps Cortázar would also spend several days watching these 64 concerts, without paying attention to clocks, enjoying the power of the golden notes.
Cartoon
There is an inevitable world in jazz, in its definition of freedom. There were disruptors who anticipated it. Dizzy Gillispie was one of them. It is 1970 and his performance is majestic with his quintet. Their cheeks swell like helium balloons, like a cartoon blowing a trumpet out of the ordinary. Out of the ordinary, Thelonious Monk, in his bargain suit, was also a beggar hero in 1963. It is theater at its peak: he moves in spasms, he dances like a dizzy duck to the double bass solo, but when he returns to the piano and sits down, neon lights come on as in abandoned cities at dawn. How do you not sweat a drop with that thick wool cap, that crown of the alleys? They all sweat a lot. Close-ups and faces with beads of jet black sweat are seen under the spotlights. Sweat creeping into the devilish rhythm. Miles Davis sweats in 1974. The genius with galactic glasses, polka dot tie, vest and metal bracelets. Control the entire band. He is in his jazz fusion stage, infusing his vision with psychedelia and rock, once again taking the lead in history. There is another concert: Miles Davis and Friends, 1969. A historic concert with Chick Corea on piano, Wayne Shorter on sax, Dave Holland on bass and Jack DeJohnette on drums. They only stayed a year and they are seen in color, with all splendor.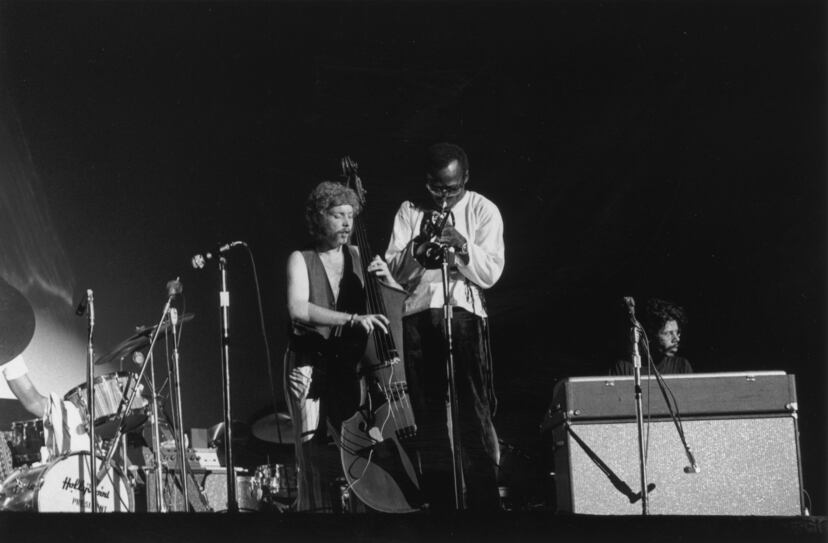 Dave Holland, Miles Davis and Chick Corea (on keyboard) at the July 1969 concert.Tad Hershorn (Getty Images)
The African-American writer LeRoi Jones said that the tragic history of the black people in the United States had its best ritual and resistance in music. That is why jazz is written on this trip, but, for example, James Brown, Aretha Franklin and Ray Charles, three colossi of black music, slip through. Impressive performances like Nina Simone's at the Olympia in 1969. She signals the audience as she begins to sing, with a challenging smile. The vein in his neck is marked. Sitting at the piano, it is all challenge.
Is there anything left after all these dozens of concerts? Yes. A gift: the documentary about the history of Blue Note, the legendary label that defined modern jazz. Perfect culmination for this long journey. Applause. Much applause. I hope life is always like this.
Sign in to continue reading
Just by having an account you can read this article, it's free
Thanks for reading EL PAÍS
---