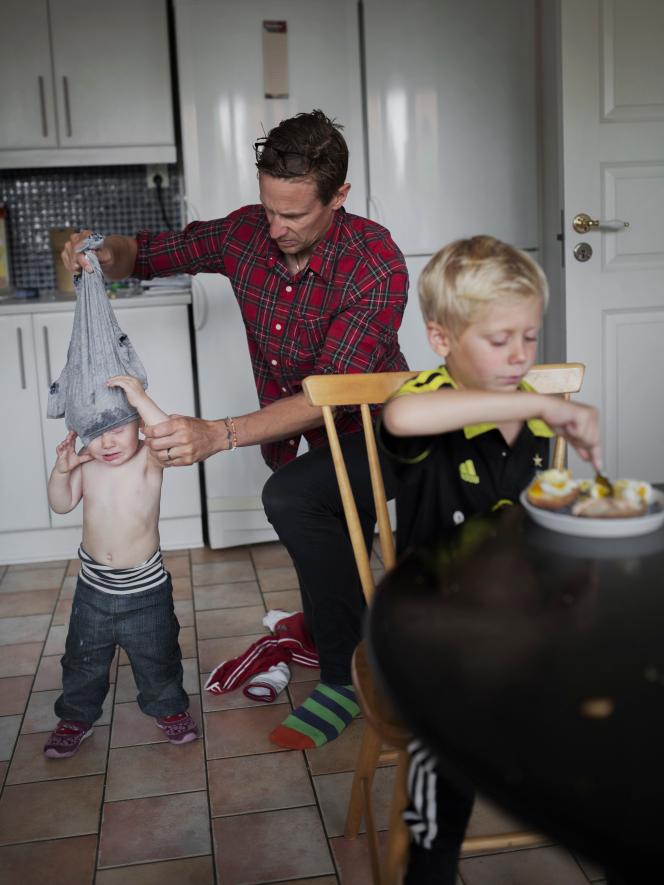 Jonas Jarl took six months of paternity leave for his third child, and eight months for his first two. In Malmö (Sweden), in July 2015. JOHAN BÄVMAN
Environment and climate manager at the Danish laboratory Novo Nordisk, Emil Linnet returned to work in mid-September, after four months of paternity leave. Two weeks later, he was away again: his 14-month-old son fell ill and they and his wife took turns at home until he could return to nursery. Nothing could be more normal for the thirty-something, who describes himself as a "feminist" and explains: "My partner and I shared the tasks before having children. There is no reason for that to change now. "
Read also: Article reserved for our subscribers Extension of paternity leave in France: towards a more equal distribution of tasks within couples?
Like other Danish companies, Novo Nordisk supplements the allowances paid by the State, to allow its employees to leave for twelve weeks with 100% of their income. Emil Linnet assures us that even without, he would have taken four months of parental leave: "For me, it was important to spend time with my baby. I did the same with my daughter, who is 3 years old. But he admits that if the device had not existed, he would have "had doubts about the company" and perhaps even "hesitated to work on it".
The men around him – especially when they are graduates, with high salaries and good jobs – increasingly take paternity leave for granted. The Danes, however, still take only a small part of the thirty-two weeks that couples can share. (in addition to the fourteen weeks reserved for the mother and two weeks for the father after birth). In 2019, fathers only spent an average of 34.2 days at home with their babies, against 280.3 for mothers.
Quota system
It is in an attempt to reduce the imbalance – and because a European directive, voted by parliament in Strasbourg in April 2019, requires member states to reserve two months of parental leave for fathers from 2022 – that social partners presented a reform project, on September 13, establishing the individualisation of leave. In addition to the two weeks for the birth of the child, they propose that both parents be entitled to twenty-two weeks of parental leave each, thirteen of which they can transfer to the other.
The Confederation of Danish Employers (Dansk Arbejdsgiverforening) opposed this quota system for a long time, before changing its mind. Its vice-president, Pernille Knudsen, explains: "We thought we could transform mentalities by making information, but we realized that it was not working. The proof: even when they can leave with 100% of their salary, some fathers do not. "For companies, she continues, this is a problem:" They hire competent women and they disappear almost a year with each maternity, when the men are only absent for a few weeks, which constitutes a considerable loss for Companies. "
You have 70.7% of this article left to read. The rest is for subscribers only.
---