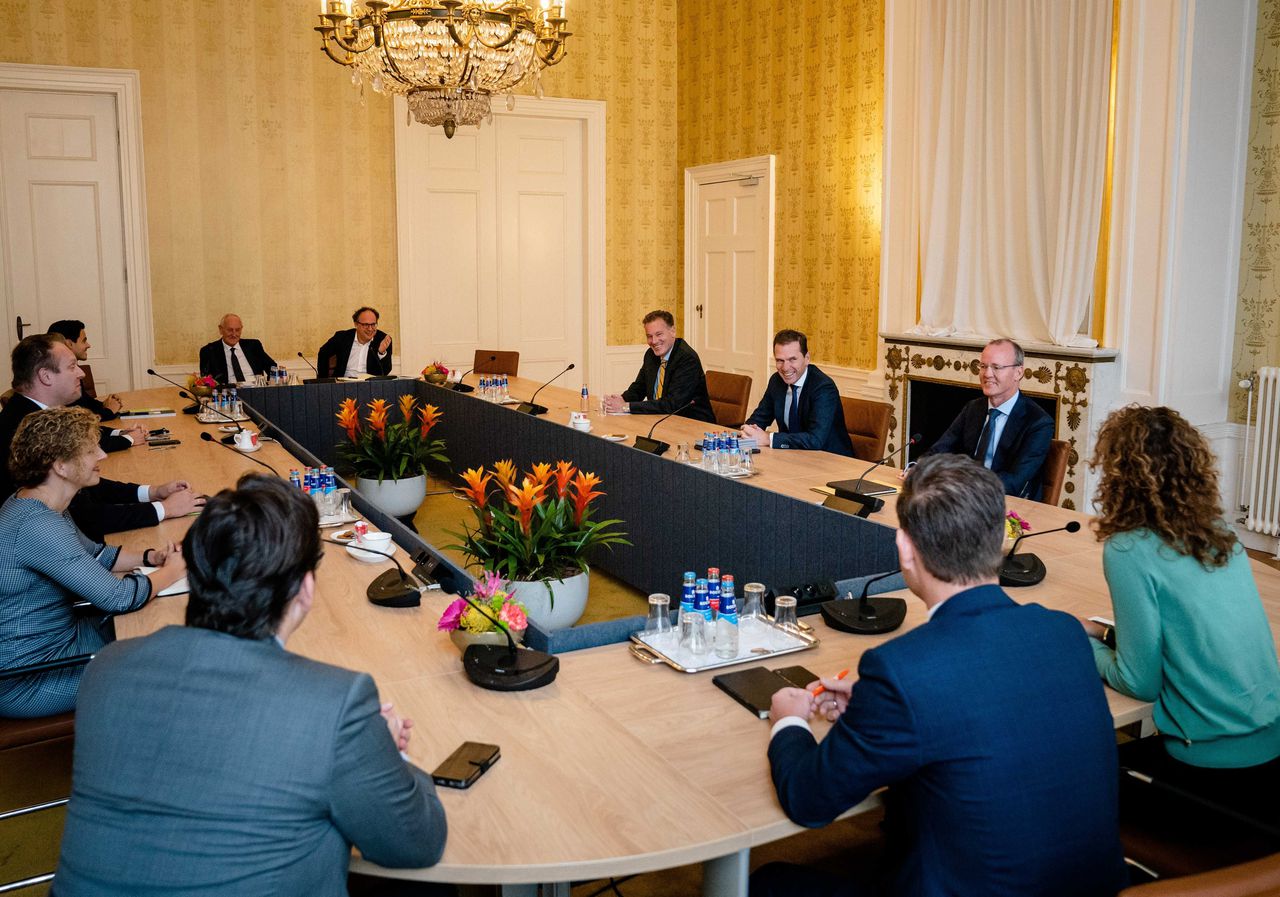 'Incidentally', the future cabinet still has 'a lot of room to invest in the Netherlands', but a permanent increase in government spending is not wise. That was the message from President Klaas Knot of De Nederlandsche Bank to the negotiators in the formation process on Tuesday. Knot, together with CPB director Pieter Hasekamp and Bas van Dungen, Secretary-General of Finance, were invited to inform the forming parties VVD, D66, CDA and the CU about the budgetary scope offered by economic developments. And yes, the current level of government debt combined with low interest rates offers the new coalition extra room, but not permanently.
The three financial experts are cautious about structural expenditure. There would also be no economic need to increase spending permanently, Knot said. He is also concerned about the shortage in the labor market. "I also don't think we could find the people to be able to implement an extra budget stimulus now." Van Dungen, who led the official Budget Room Study Group last year, takes into account an almost automatic high rise in healthcare costs. This hinders the budget wishes for other departments: 'Expenditure for one means that you cannot spend on something else.
The cautionary words of the three are in line with their previous advice. In June, Knot and Hasekamp had already visited the previous informer, Mariëtte Hamer. And the Budget Room Study Group already had the same message in October last year. There is enough money for one-off investments for acute bottlenecks such as in healthcare or infrastructure. After the billions extra to tackle the corona crisis, according to Knot, it is now time "to go back to a regular budget system". After all, according to him, the crisis has made it clear that financial buffers are needed. The three consider it necessary to be cautious when borrowing money. It is uncertain whether the current low interest rates will remain that low. Van Dungen: "We cannot automatically count on that." According to the top official, you should initially also find new extra expenses within the current budget. That is a different route than, for example, the governing party VVD recently proposed at the General Financial Considerations. The party leaders and deputies of VVD, D66, CDA and ChristenUnie will resume talks about a new coalition on Wednesday. They will then meet for three days at the De Zwaluwenberg estate in Hilversum.
Newsletter NRC The Hague Mood
Follow the formation closely and become an initiate in The Hague yourself
---