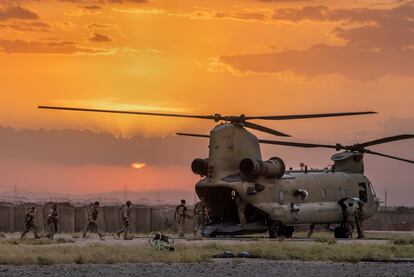 US soldiers board a helicopter in northern Syria in May 2021.John Moore (Getty Images)
The United States Army has killed Abdul Hamid al-Matar, an Al Qaeda official, after a drone attack in Syria, authorities reported, adding that they have no evidence of civilian casualties during Friday's offensive.
"The elimination of this senior al Qaeda leader will disrupt the terrorist organization's ability to continue plotting and carrying out global attacks that threaten American citizens, our partners and innocent civilians," said Major John Rigsbee, spokesman for the Command. Central. Rigsbee detailed that the airstrike was carried out with an MQ-9 type unmanned aerial vehicle (drone).
The event comes two days after an attack on a US outpost in southern Syria. Rigsbee did not say whether the US drone strike was carried out in retaliation. Just a month ago, the Central Command claimed to have killed another senior Al Qaeda leader, whom it did not identify, also in an aerial bombardment in the northwest of the country, reports the Efe agency.
Follow all the international information at Facebook and Twitter, o en our weekly newsletter.
Join EL PAÍS now to follow all the news and read without limits
Subscribe here
---