Unai Sordo, general secretary of CC OO, moments before the interview.Kike Para
At 49, Unai Sordo (Barakaldo, 1972) renews his mandate as general secretary of CC OO, the main union in Spain, after being re-elected at the 12th Confederal Congress that the organization has held in Madrid for the last three days. Despite the evident wear and tear that 2020 has caused on social agents, he acknowledges that he faces the next four years "wanting to resolve all pending negotiations."
Question. Both you and Pepe Álvarez at UGT have renewed their leadership unopposed. What do you blame for this lack of alternatives?
Answer. I think that the level of internal cohesion that exists in CC OO has to do largely with the maturity of the organization, although the truth is that the average age of the people who are representative is being renewed. I think that those who lead the organizations what they have to look fundamentally at is the challenges that the working class has and not be enthralled with themselves.
P. Although in CC OO they have increased by more than 50,000 the number of subscribers between 2017 and 2020 (there are 976,910, according to the latest report), union membership in Spain (14%) is still much lower than that of countries such as the United Kingdom (23%) or Belgium (50%). Do they self-criticize?
R. They are incomparable situations. In countries like Belgium, union membership is promoted by managing workers' access to certain public benefits. Another difference is that there the collective agreements apply only to workers who are affiliated. In Spain we have a scheme where the legitimacy of the unions is not based on membership.
Q. In your first four years as Secretary General, you have experienced a motion of no confidence in the Government and the declaration of a global pandemic. In the next four he will negotiate a labor reform and a reformulation of the pension system.
R. We only have to live an alien invasion! (Laughs) I think that lately in society the feeling of vulnerability has increased in a very intense way and it is something that has forced us to give immediate answers to unprecedented problems.
The legitimacy of unions in Spain is not based on membership "
Q. In your first speech at the congress, you were moved remembering the time you were confined after catching the coronavirus. Did you get scared?
R. At that time I was alone in Madrid. It was a very stressful work situation in which you suddenly find yourself locked up at home. You have the feeling of living a dystopia. Already with the confinement, I had a conversation with María Jesús Montero where she raised our assessment of the total paralysis of the activity. What was happening was terrible, unspeakable.
P. The image of social dialogue was reinforced during the toughest moments of the pandemic with the signing of agreements between the Government, employers and unions. But the employer's association has already taken off the last rise in the minimum wage, and they still have issues to negotiate in which the positions are just as far apart. Are those photos over?
R. It is going to be more difficult, unquestionably, and these agreements must be valued. Now it is going to be more complicated because the interests at stake are quite opposed and above all, because the labor reform of 2012 gave a lot of power to the business community. And when you give so much power to a party and you facilitate the precariousness of employment, the recourse to dismissal or the modification of working conditions, it is difficult for that party to voluntarily agree to give up part of that power. But hey, I would not rule out a tripartite agreement.
P. Europe asks that there be.
R. I think that Europe is used a bit like the dolls that ventriloquists have and they try to say things that they say that Europe says, but I am not so sure that Europe says them.
Q. For example?
R. I have not heard Europe say that either there is a tripartite agreement in Spain or the labor law cannot be touched. I have heard him say that it is necessary to drastically reduce the duality of employment in Spain, that is, to reduce temporary hiring. I wish there was a tripartite agreement, but if there isn't, the government will have to regulate labor law in a different way.
Q. The CEOE says that repealing it would reduce flexibility in hiring.
R. That is a mantra and also does not respond to reality. CC OO is not proposing to repeal the labor reform to go to the legislation of 2009, which was legislation in which there was a 32% temporality before the financial crisis. What we are proposing is to repeal the labor reform of 2012 to modify the labor model in Spain, not thinking in 2007, but in 2022. And this implies rebalancing, in effect, collective bargaining. And also stabilize hiring and facilitate a new formula for adapting the working day that serves as an alternative to dismissal. CC OO is not proposing to go back to the legislation of the first part of the 21st century or to the legislation of 25 years ago.
Q. How would you rate your relationship with the Government? And in particular with Yolanda Díaz?
R. It is a fluid relationship, quite permanent, and sometimes strained when we do not agree on some things. It must be recognized that the Ministry of Labor has made a fairly clean bet for social dialogue and for trying to reach agreements.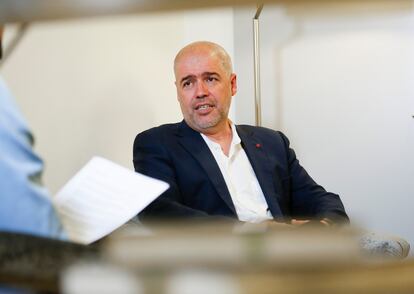 Unai Sordo, general secretary of CC OO, during a moment of the interview.Kike Para
P. The draft Law of the General State Budgets for 2022 includes the setting of a minimum rate of 15% in corporate tax as you claimed.
A. Yes, but as it is collected it will have a very timid impact.
Q. Are you afraid that manna of European funds make the Government lose focus on this new fiscal framework that they are demanding?
A. That is the risk. What the reconstruction funds offer you is more margin so that you do not have to undertake a very deep tax reform right now. But one thing is that it gives you more time margin and another is that steps are not taken so that at the end of the legislature in Spain there is a far-reaching tax reform that allows reducing margins with the average of the countries of the European Union and above all, that it guarantees that we will continue to have a social state and that we will reinforce it in the future.
P. Although the affiliation to the Social Security takes six months to rise, the industralists complain of the lack of workforce. Vice President Díaz suggested that they improve the salaries they offer as a solution.
R. To a large extent that is the problem. It is that in Spain it is said, for example, that there are no workers for the field, and thousands of Spanish day laborers are going to do the harvest in France. With which it will not be that they are not willing to work, but rather that they prefer other jobs that are not in conditions of misery.
Hopefully there is a tripartite agreement with the labor reform, I do not rule it out "
Q. What would you say to young people who cannot find a job or cannot find a permanent one?
R. First that they organize in a union because things do not fall like the rain falls from the sky. And then that they do not resign themselves and things change.
Q. It has just been 10 years since the end of ETA and you started in unionism in Euskadi and in the hardest years of terrorism. How do you remember that time?
A. Well, I joined the union in June 2000 and in September Máximo Casado – a 44-year-old prison official – was killed, and one of the first activities in which I was involved was organizing his funeral. What happened on October 20, 10 years ago, I think is one of the great moments of my public life.
Q. Do you think that the wound both in Euskadi and in the rest of Spain is healing? According to the statements of some politicians lately, it does not seem so.
R. I believe that in the Basque Country the level of normalization of social life is very important. Which does not mean that there are no wounds to be stanched, and that there are no keys that should not be played in the Basque Country. We must have a reverential respect for the victims and the attitude they had during all these years. There is no need to have any desire for revenge, no desire for revenge. You cannot boast, for example, ETA prisoners when they leave prison. I believe that coexistence must be encouraged and that Basque society has made great progress in this in these 10 years. It was a great liberation, and as the writer Bernardo Atxaga said, when ETA disappeared we were all walking a foot above the ground from the immense weight that we lifted off of ourselves.
---