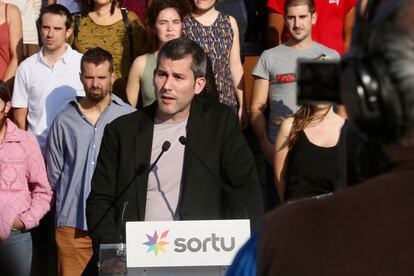 Sortu's general secretary, Arkaitz Rodríguez, makes a public appearance for the tenth anniversary of the cessation of ETA's armed activity. Javi Colmenero (Europa Press)
The left nationalist assures that the statement of last Monday by the coordinator of EH Bildu, Arnaldo Arnaldo Otegi, was sincere, affirmed about the victims of ETA, that they felt "greatly their suffering" and that "that should never have happened", despite the doubts and criticisms prompted another statement from him, just seven hours after the first. In this second, and before his militants, Otegi said that he was capable of doing anything to "get the 200 prisoners of ETA" out of jails, including "signing the Budgets [Generales del Estado]". Sortu's general secretary, Arkaitz Rodríguez, wanted to settle that debate this Friday by ensuring that no one should be surprised that EH Bildu's priority is to end prison policy, but without considering "nor as a mere hypothesis, linking it to the budget negotiation ". "Another prison policy cannot be subject to negotiation, it must be done without compensation," said Rodriguez. And to reaffirm the commitment of EH Bildu and Sortu with peace, he explained that they are "reflecting" to put an end to the Welcome [homenajes] to the gang's inmates when they are released. Until July, the Civil Guard was investigating about 150 acts of this type.
After the controversy generated around Otegi's double language, Sortu's general secretary, Arkaitz Rodríguez, has tried to reinforce the image of EH Bildu as a coalition sensitive to the ethical demands of the rest of the parties and especially of the victims of terrorism. "We are reflecting on it, and we are not going to be alien or insensitive," he said. "We are going to try to satisfy the demand" of the victims of ETA, he assured, aware that his word has been devalued and it is time for the events.
Otegi pointed out after the meeting with militants in Eibar that it was a way of speaking and that "no one can believe" that he is going to link the approval of the General State Budgets to "leaving the ETA prisoners."
This Tuesday, EH Bildu prevented with his silence the Basque Parliament from approving an institutional declaration condemning the "unreason and injustice" that ETA's terrorist activity entailed.
"The PNV, the PSOE and Podemos did the same" last Tuesday, Rodríguez pointed out, before a similar statement presented by the PP in the Senate. In his opinion, with this type of statement, the PP "not only intends to obstruct progress towards peace, but also to overthrow the Government of Pedro Sánchez." For Rodríguez, the substance is that there are victims of ETA who have welcomed with joy "our statement last Monday and have sincerely, constructively and privately transferred that demand to us." In his opinion, Otegi's pronouncement on the victims was "historic" and represents a "qualitative step".
As Otegi did in an interview on Catalunya Ràdio, Rodríguez has valued the movement of the left nationalist recognizing that there has been a lot of internal resistance. "This has not been easy or simple" to understand internally because, as he has said, some militants understand that they are the only ones to take steps forward and that there is "no equivalent attitude in other parties involved in the conflict," he said. . He has also put on the balance that this step has generated a reaction of "general joy" in Spain and has specifically cited the socialists, Podemos, and the Catalan independence parties. The negative side, in his opinion, has been the response of the PNV, which considered the statement as "insufficient." Rodríguez has accused the party of the Lehendakari, Iñigo Urkullu, of "agreeing" on this matter with "the enemies of peace and with those who only put obstacles to peace: PP, Cs and Vox."
---