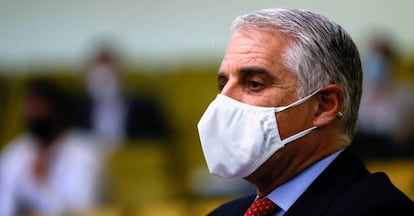 The current CEO of Unicredit, Andrea Orcel, during his trial against Santander.REUTERS
The trial of Andrea Orcel against Santander in which he claims 76 million for moral damages and against his reputation has been seen for sentence, in the absence of the conclusions of the two parties. In this Wednesday's session, Axel Weber, president of UBS, the bank where Orcel worked when he was signed by Santander in September 2018, spoke by teleconference. Following the announcement, the Italian manager, who is now CEO of Unicredit, he moved to Madrid with his family and began to hold meetings with Santander executives until everything was blown up. In January 2019, the bank chaired by Ana Botín issued a statement saying that it was resigning from incorporating Orcel as CEO due to its "unacceptable cost", since UBS refused to pay part of the deferred remuneration that corresponded to its former director , a total of 35 million, in addition to other emoluments.
Weber, who was president of the Bundesbank (the Central Bank of Germany) and a member of the governing council of the ECB, has been blunt in stating that he informed Botín on September 18 and 24, 2018 that his opinion on the pending payment "was very clear according to our principles. We were not going to pay the pending payments because Orcel was going to another financial institution, it was a voluntary resignation. On September 25 the decision was made in the council, Santander was notified and in no case was it going to be negotiated ".
Mark Shelton, UBS Compensation Director, who also testified in a teleconference at the trial that lasted more than four and a half hours, agreed that this was the position of the Swiss bank. What was claimed from UBS would lower the bill that Santander had to pay Orcel. The manager, present in the room – very active in sending messages to his defense attorneys during interrogations – declared optimistically at the end of the session: "Everything that had to go out has come out; now that the judge decides ".
Orcel also believed that UBS would pay him part of the bonus
This position of Weber collides with the statements of Ana Botín, who hinted that UBS could pay part of those 35 million euros that Orcel was going to stop earning by going to Santander. This issue was transcendental because the Spanish entity was not willing to pay all this amount, since it exceeded its usual fees. Orcel himself also stated in writing to Santander that he could get UBS to pay him around half of this amount, as he expressed in different documents during the months of the negotiations, although this was not the case later.
How do you explain that if UBS had such a decisive decision on this issue, Santander would continue negotiating with Orcel until January 2019? Botin stated that, despite the resistance of UBS, there were executives of the entity who did want to pay part of the pending bonus from Orcel as had been done on other occasions. In addition, he said that UBS was a fundamental advisor to the bank for more than 20 years so they expected a gesture from him. The Santander defense maintains the argument that the executive director of UBS at that time, Sergio Ermotti, was in favor of paying Orcel, but no one has called him to testify, so his position is unknown. In any case, Weber clarified that such a decision cannot be made by a manager but by the bank's board of directors, downplaying the role of Ermotti.
The Italian increasingly asked for more
The director of Human Resources of the Santander group, Roberto di Bernardini, who will go to work at Danone in November, declared that they did not know the amount of the bonus pending from Orcel until December. Jaime Pérez Renovales, secretary of the Santander board, also appeared and stated that Orcel, despite not getting UBS to pay him, claimed around three million more for interest and dividends on the portfolio of shares that was left in the Swiss bank, " which created discomfort for what it supposed ". Shelton confirmed that Orcel received 20% of the 2018 bonus in cash, and that it has collected the corresponding deferred payments in 2020 and 2021, but did not say the amounts.
Santander's position in this case remains clear: it claims that it does not have to pay any compensation to Orcel because it never offered a contract, but rather an offer letter subject to various conditions that were not met. He also recalls that a clause of the agreement said that it could be broken unilaterally by either party without notice and without requesting compensation.
The end of the trial, in the assembly hall of the Plaza de Castilla courts in Madrid, was very hectic. Orcel's lawyer, Álvaro Remón, accused the Santander José Miguel Fatás of being a liar and manipulator of documents, who returned the grades and reminded him that they had filed a complaint for falsehood that had been dismissed. The judge, Javier Sánchez Beltrán, asked the lawyers for peace and demanded that they present their conclusions in writing because after four and a half hours of trial "and given the complication of the case, I have doubts that I can understand them precisely." They will deliver them on November 5 and, later, a sentence will be handed down.
---