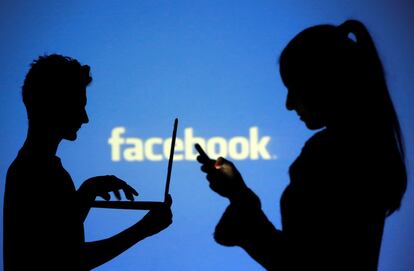 Two people, one with a computer and the other with a mobile phone, in front of a screen with the Facebook logo Dado Ruvic (Reuters)
The Competition and Markets Authority of the United Kingdom (CMA) fined the social network Facebook this Wednesday with 59.7 million euros (50.5 million pounds) for failing to comply with an order imposed by the British competition regulator during its investigation into the purchase of Giphy, the most well-known tool for creating gifs —Short videos that are repeated in a loop—, as the newspaper has progressed The Guardian.
The CMA launched an in-depth investigation last April into Facebook's acquisition of Giphy for 344 million euros (about 290 million pounds) earlier this year. The British regulator feared that the purchase of the gifs by Mark Zuckerberg's company could lead to a reduction in the provision of these videos to other social networks that are not part of Facebook, such as Snapchat, TikTok and Twitter.
According to the CMA, the tech giant "deliberately" refused to provide information during the investigation that showed it was in breach of an Initial Execution Order (IEO) by which any company must stop the integration of a business that has been acquired – in this case Giphy – and allow it to compete as it was before the merger until the regulator completes the investigation. "This should serve as a warning to any company that thinks it is above the law," said Joel Bamford, head of mergers at the UK Markets and Competition Authority. "We warned Facebook that its refusal to provide us with important information was a breach of the order, but, even after losing its appeal in two separate courts, Facebook continued to ignore its legal obligations," added Bamford. The Guardian.
The CMA fine comes at a difficult time for Facebook's reputation and when the social network plans to rebrand the company with a new name next week, according to the specialized media The Verge, which cites a source with direct knowledge of the matter. The company comes under scrutiny from regulators for its content moderation practices and the damage associated with the social network after an ex-employee showed thousands of internal documents that show that Facebook works with algorithms that encourage discord that sometimes costs lives, that its tools are designed to create dependency and increase consumption, or that the company does not treat its more than 3 billion users equally.
[Noticia de última hora. Habrá actualización en breve]
---