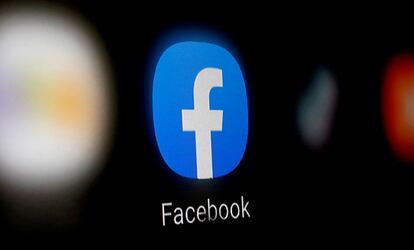 The Facebook logo stands out on a mobile.Dado Ruvic (Reuters)
Facebook plans to rebrand the company with a new name next week, according to the specialized media The Verge, citing a source with direct knowledge of the matter. According to this information, the announcement will be made at the company's annual conference on October 28, although it is possible that the new name will be known earlier. The spokespersons of the company consulted by The Verge they did not want to comment.
The rebrand would position the social network Facebook as one of the many products of a parent company, which also oversees groups such as Instagram, WhatsApp or Oculus. It could also serve to further separate the futuristic project from the metaverse, on which the company is now focused, from the intense scrutiny the company is being subjected to for the way its social platforms operate.
In recent months, Zuckerberg has focused many of his appearances on explaining the company's commitment to the metaverse. In this environment, focused on the development of experiences in the virtual universe, it is expected that different platforms interested in offering services such as work meetings, virtual offices, concerts, games, shops or public squares will converge. The executive himself described it a few months ago as "a kind of hybrid between the social platforms that we see today", but in which we will be more immersed.
Facebook wouldn't be the first big tech company to change the company name. In 2015, Google completely reorganized itself under a holding company called Alphabet, in part to indicate that it was no longer just a search engine, but a sprawling conglomerate present in many sectors, including self-driving car manufacturing or tech technology. Health.
The identity change would come in a particularly turbulent period for the giant, which is under scrutiny by regulators for its content moderation practices and the damage associated with the social network.
You can follow EL PAÍS TECNOLOGÍA at Facebook and Twitter or sign up here to receive our newsletter semanal.
---