In addition to our overview of films on TV, we regularly highlight the best film on TV for you, so that choosing a film is even easier. Tonight our TV movie tip is the thriller Red Sparrow (2018) with Jennifer Lawrence.
The career of ballerina Dominika Egorova (Jennifer Lawrence) suffers a setback when she breaks her leg during a performance. After recovering, she tries to regain her role by doing a favor to her uncle, a senior officer in the Russian Intelligence Service. As a result, she witnesses a murder, putting her life in danger. To stay alive, she joins the SVR and is trained to become "Sparrow", a female spy agent. Her first assignment: seduce a CIA agent in Budapest and find out the name of his mole in Moscow.
Red Sparrow is directed by Francis Lawrence, not related to Jennifer. He previously worked with her on the films The Hunger Games: Catching Fire (2013) and The Hunger Games: Mockingjay – Part 1 (2014). He will soon release his latest film Slumberland on Netflix, starring Jason Momoa.
Watch the Red Sparrow trailer here:
Red Sparrow is on Veronica tonight at 8:30 PM. The film can now also be seen on Disney+ and via Pathé Thuis.
Have you seen Red Sparrow yet? Then view the overview of all films on TV. On this page you will find all TV movie tips for this week.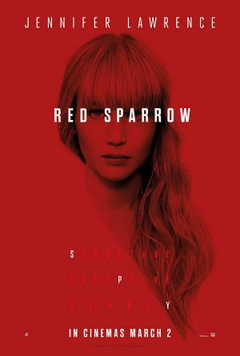 6.6 Watch Pathé Thuis (€2.99+) • Against her will, Dominika Egorova (Jennifer Lawrence) is being trained to be a 'sparrow', a trained seductress of the Russian security service.
Beeld: Still 'Red Sparrow' via TMDb
.
---