Everything seemed multiplied by three on October 17 in El Celler de Can Roca, in Girona. There were the three brothers Joan, Josep and Jordi Roca, dedicated body and soul to gastronomy, in their three Michelin star restaurant, considered one of the best in the world, and with three reasons for celebration: it was Sunday, it coincided with the World Food Week and a project grown by the union of the kitchen (them), a bank (BBVA) and other allied organizations, called Sowing the Future.
This project, which delves into the vocation of another call Sustainable Gastronomy, that both private companies have kept alive for almost a decade, is now trying to promote a reflection that they consider fundamental in these times before COP26 (the Climate Summit in Glasgow that begins on November 1): we must urgently protect biodiversity. Taken to his land, we talk about food, and the alarming loss of species and crops that we live today. Something that fully affects local farmers and producers, but also consumers. Even the growing impact of hunger in the world.
And it's not the first time. The Roca brothers already put their gastronomic touch with an environmental conscience at the last summit in Madrid, in November 2019, serving a menu called The earth runs out to the leaders gathered there.
More information
A wake-up call, then, from haute cuisine on the relationship between food, global health and environmental well-being, stressing the importance of avoiding at all costs the extinction of the natural resources that we have: today, 86% of the species is at risk and experts warn about the responsibility of human action in this threat.
And the Roca family are trying again now through a documentary film, still filming and released in November, which seeks to inspire consumers to adopt responsible habits through local, quality and local cuisine that protects health. and the cultural memory of the peoples. A film linked to a menu with ingredients in danger of extinction as scraps of a past time, of tastes, flavors, smells of his own childhood and youth in the warmth of the home and the old family restaurant, which may not yet be too late to recover .
In words after Josep Roca: "Responsibility and respect we feel today, but above all an enormous illusion to share and bring together a work that, slowly and quietly, we have been carrying out for nine years, the moment when We began to walk on this path of search for the culture of taste, going a little beyond the hedonistic part and that we began with projects such as Recycle Rock, Animated Earth or Tierra Adentro, inspired by Vandana Shiva … ".
My children's generation is the first to be aware that the planet is dying out … They believe in the need to change habits, including food

Josep Roca
His interest, he says, is not of today. "We feel calm, growing, learning and contemplating how the world has this green look. This is positive. You should not give up any small progress, even if it is a trend … The important thing is to know that there can be a style and it is permanent. My children's generation is the first to be aware that the planet is dying out, until now there has not been this debate … they believe in the need to change habits, including food ".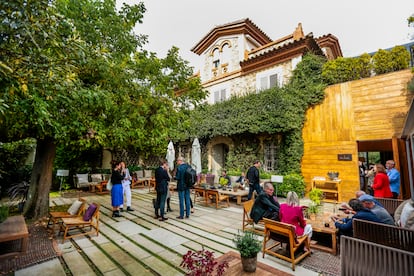 The patio of Celler de Can Roca.
And three parts had the opening act. There were speeches. Opened them Antonio Ballabriga, Global Director of Responsible Business at BBVA, alluding to the great challenges and goals in climate issues for governments and companies, especially with regard to the impact on emerging countries. "No one should be left behind," he asked. "Neither in education, nor in empowering women, to anyone … and we cannot afford to lose what we have," she said. "At BBVA and El Celler de Can Roca we have been working for years to help people in the transition towards a sustainable life that ensures a green, inclusive and resilient future. Beyond the fight against climate change, the preservation of biodiversity is also fundamental ". It is estimated that between 1992 and 2014 natural capital per person decreased by almost 40% and that more than half of the world's GDP depends moderately or heavily on ecosystems, he continued.
It is a film linked to ingredients in danger of extinction, such as scraps of a past time, of tastes, flavors, smells of his own childhood and youth, which may not yet be too late to recover.
"The dependence on ecosystems to live is enormous and their loss is a social, cultural and economic issue. You have to have a holistic vision ". And he assured that what is needed is a systemic change. A great challenge that he (they, at BBVA) also sees as an opportunity: "And that is where we frame our alliance with the Roca brothers. There is much that unites us, the people, the closeness with the producers … it is a luxury to be able to be here ". And he closed: "We are the last generation with the capacity to design the future, we can still do it, before it is too late, we have a wonderful journey ahead of us."
According to him, green is not a fad in companies and the financial sector: "Because sustainability is relevant, it is already reputational and of value. The world has to change, in ten years many things will happen … Private companies have a lot to do, the big change will be when the SDGs stop being a beautiful framework to report and become a tool to promote real changes. Today there is a greater demand from consumers and banks must adapt, incorporate sustainability into our strategies because if not, you are lost, you miss the train … ", he concluded.
The three Roca brothers, at the presentation of 'Sowing the future' at the Celler de Can Roca.Josep Oliva
Then there was at El Celler de Can Roca an aperitif of what the film will be in progress, a very emotional trailer dedicated to the figure of his mother, the propellant in the kitchen of everything that the Roca brothers are today. "I only ask God to give me memory," Montserrat Fontané is heard saying, with more than eight decades of life and absent from the act due to being injured these days. "How many species disappear in the life of a family?", It is heard … How many losses in the mists of time … Food and Agriculture Organization of the United Nations (FAO) It gives you figures: 70% in a hundred years, ten of them every day …
"There is an inseparable relationship between cultural and biological diversity. The disappearance of species, crop varieties and agricultural techniques not only impoverishes our culinary tradition, they also diminish our knowledge and heritage. We have always supported local, cared for, top quality products and the producers who bet on them. We believe that it is a way of preserving both our environment, our memory and our flavors: ultimately, the kitchen is a key vehicle for sustainability, development, innovation and social inclusion ", explained Joan Roca.
And then followed the succinct description of the menu to come, a feast of ingredients that will remain a secret until the moment the documentary is released; not just a multiplication but an explosion of dishes and wines that taste and smell of history, the effort of anonymous men and women, a passion for quality, and that also hide a lot of struggle, a lot of frustration and hope. Some full of unexpected color: white aubergine, black turnip, purple potato …
"Biodiversity, healthy diets and climate change are inextricably linked. Without a wide diversity of plants and their genetic diversity, we cannot achieve quality nutrition for a healthy and productive life, adapt agriculture to climate change or achieve the global objectives of sustainable development ", indicated Álvaro Toledo, undersecretary of the International Treaty of FAO on Plant Genetic Resources for Food and Agriculture, one of the entities that has collaborated with BBVA and El Celler de Can Roca in this project. It is therefore essential to ensure a sustainable and inclusive future. In addition, it improves rural livelihoods and strengthens the resilience of people and communities around the world.
The presentation ceremony was attended by international chefs linked to sustainable gastronomy such as Christian Petersen (Argentina), Harry Sasson (Colombia), Jorge Antonio Vallejo García (Mexico), Leonor Espinosa (Colombia), Maksut Askar, (Turkey), Rodrigo Pacheco (Ecuador) and Santiago Blondel (Argentina); as well as entities committed to the preservation of biodiversity such as FAO, Crop Trust, the International Fund for Agricultural Development (IFAD) and members of the Slow Food movement.
A group of diners during the event 'Sowing the future' Josep Oliva
A story of supporting the small producer
The adventure of El Celler de Can Roca and BBVA is a story of shared values, an alliance born in 2013 that has traveled the world on a sort of gastronomic tour, seeking to energize small producers in each region visited and making known the author food stories. In addition, in 2020, in the midst of the covid-19 pandemic, they began Sustainable Gastronomy. Support for small producers, a project to preserve natural resources and that recognizes the work of people who work on land and in the sea. Months later, announced the Awards for the Best Sustainable Producers: awards that, in its two editions, have given visibility to farmers, ranchers and local food producers whose activity combines commitment to the environment, commitment to energy saving measures and healthy eating.
In this context, they have also launched a loan in Spain that helps farmers and ranchers to turn their conventional farms into organic ones, as well as a professional and free training program so that their clients in Spain can get started in online sales or the platform Comercio a distance, in Mexico and Spain, to help small non-digitized businesses to meet the demand for distance orders in the context generated by covid-19.
You can follow PLANETA FUTURO in Twitter, Facebook e Instagram, and subscribe here a nuestra 'newsletter'.
---