LETTER FROM COPENHAGEN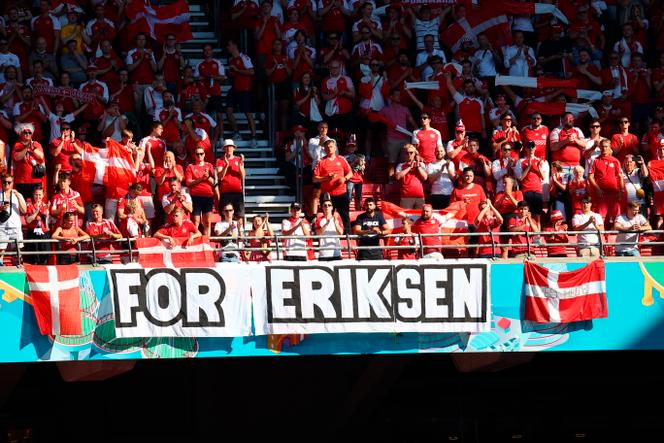 Danish supporters display a banner in support of player Christian Eriksen at Parken stadium in Copenhagen on June 17, 2021. WOLFGANG RATTAY / AP
On June 12, Janni Moller Thomsen, 39, was at Parken Stadium in Copenhagen. She remembers a highly charged atmosphere. In the stands, a red tide awaits the kick-off of Euro 2020, postponed for a year due to the Covid-19 pandemic. On this day, the atmosphere is reminiscent of a national holiday. After two lockdowns and months of restrictions, life resumes its rights. "Even people who are not big football fans watched the game," says Janni Moller Thomsen.
The meeting begins at 5 p.m. the Danes face the Finns, for whom it is the first participation in an international tournament. Led by their captain Simon Kjaer, the Red and Whites push the Finnish Grand Dukes to their limits, when suddenly, in the 43rd minute, attacking midfielder Christian Eriksen, 29, collapses on the pitch. The rest takes place in a few moments: the medical team rushes into the field, administers the first cardiopulmonary resuscitation procedures, then gives the lifeless player a defibrillator.
The wait is endless. Fright wins the spectators, aware of the gravity of the situation. Finally, after about fifteen minutes, Christian Eriksen left the stadium on a stretcher. He is conscious. The doctors confirm, a little later: the footballer's heart has stopped beating for a few minutes. In Denmark, hundreds of thousands of spectators have just witnessed his "resurrection".
For Janni Moller Thomsen, it clicked: some time ago, on her phone, she downloaded the Hjertelober application – "the runners of the heart" – but never activated it. "My first aid courses went back three to four years, I thought it was not enough," says this former soldier, employee of a sports club and a software company. Seeing the rescue of Christian Eriksen on the lawn of Parken Stadium, she decides to activate the application: "I told myself that I could make a difference. "
It is not the only one: in a few days, a record number of Danes signed up for the Hjertlober program, which brings together more than 117,000 volunteers (in a country of 5.8 million inhabitants). Some 6,500 have joined since June 12. "People understood that day that the only thing they could do wrong was to do nothing," sums up Fredrik Folke. Cardiologist, he works with the TrygFonden Foundation, in charge of the program.
You have 57.91% of this article to read. The rest is for subscribers only.
---