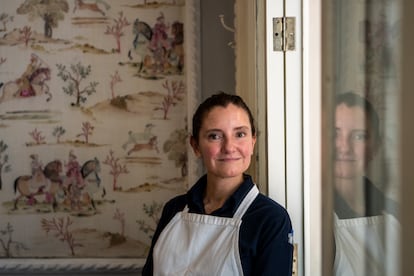 Mexican chef Elena Reygadas poses at the Rosetta restaurant in Mexico City.Hector Guerrero
What time do Mexicans eat? "At all hours," says Elena Reygadas. Correct answer. It is impossible to go out to the streets in this country without having a stall of food, some more homemade, others, pure caloric disorder. Some of the most famous restaurants in Latin America coexist with this street binge: huitlacoche, pumpkin flower, grasshoppers, sweet potato, holy leaf, red snapper, infinite offal. Mexico has hundreds of its own names for its cuisine, while it is dying of hunger or obesity. They are the extremes of a country of abundant nature that has been spoiled along with the United States. In Latin America, big restaurants don't have love handles. It is the San Pellegrino list that places stars on the best aprons on the continent. And Reygadas (Mexico City, 45 years old) has made his business, Rosetta, one of the top 10. And the third from Mexico.
Question. Do friends invite you to dinner at home?
Answer. They say they get nervous, but I enjoy a piece of salted avocado.
Q. Do men eat differently from women?
R. Perhaps in the generation of my parents, among the young people of now no longer.
Q. How do you eat now?
A. I feel that in a very personal way. One says: garlic is heavy for me, milk, gluten, poultry, animal protein.
Q. Or the rabbit is looking at me.
A. Yes, that, there are many diets, I am celiac, I am paleo.
Q. What is paleo?
R. Oh, I don't even know well, it has to do with the Paleolithic, I think there is no sugar or cereals in that diet.
Q. That current culinary conception seems very religious. Capricious, perhaps. Would a vegan society destroy the great restaurants?
A. No, having so many diets and needs can make cooking more creative. Sometimes instead of getting angry with a vegan it is better to say: let's make them some incredible dishes, let's include the varied diets that exist today. Why not rate a vegetable dish at the same level as a beef ribeye?
Q. FAO recommends eating bugs. Are countries like Mexico that have been gobbling insects for centuries at the forefront of the world?
A. The Mesoamerican plant and insect diet is the most avant-garde. The most environmental and sustainable.
Q. When everyone eats bugs, a generation will come that fences unethicality.
A. They already exist. They question it from an animalistic point of view. I like. I think that first of all you have to have a balance, it is the healthiest thing in this world. No more not abusing.
Q. Who would Reygadas invite to his table?
A. I really enjoy cooking with people connected to the land, farmers, for example. Those excite me and make me nervous to know what they think.
Q. And who would you put a well-thrown salivite on the plate?
R. To all those who have made cooking in this country and in the world crap, I am very angry. Those who by ambition and money have impoverished food. Great entrepreneurs, people who know that their products are not of good quality, not even they consume it, do business at the cost of their health.
Q. When the world ate to feed itself, it was impossible to imagine that this time would come when food kills.
A. Yes, it is very angry and in Mexico it shows a lot, the less privileged classes do the worst: soft drinks, pastries, instant soups. It's a tragedy.
Q. The dictator Porfirio Díaz has already said it: "Poor Mexico, so far from God and so close to the United States."
R. Being so close to the United States is negative in that sense, emigration so strong that there was a change in diet. The field was neglected. And the free trade agreement between Mexico and the United States in the nineties. Everything affected.
Q. To what do you attribute the global boom in cooking? We had breakfast, lunch and dinner with great chefs everywhere.
R. In recent years, the individual has been given a lot of strength and social networks also have an influence. I remember, as a young man, that you went to a restaurant and it was strange to know the name of the cook, now he is so individualistic, the brand-name… It's sad, the kitchen is communal, team-based.
P. Return of omelette. Is the current Mexican government on the left, as they say?
R. What little questions. Wasn't this a lighthearted interview? There are many left-wing ideas, yes, and left-wing practices. Others do not.
P. These days abortion has been decriminalized in Mexico. Is the Supreme Court doing the Legislative's duties?
A. It is a joy that it finally happened. That abortion is penalized seems tragic to me, the woman always decides about her body. Always.
Q. Have you ever spoken of culinary nationalism? That tacit imposition of cooking with what is typical of a country.
R. Mexico is a nationalist country, it always has been. In my case, I love to take what is in this country, in this culture, in this soil, but to get out of that too and have eyes for other sides.
Q. Which country is richest in its cuisine?
R. Mexico. Well, China. I don't know him, but his food seems the best to me. Yes, yes, China, without a doubt, amazing.
Q. Your cuisine has a reputation for simplicity, a tribute to purity. That contrasts with the Mexico of the sauces, of the cheese everywhere.
R. I use chili, but very subtle, or epazote, but in a sober, clean way. It goes in the personality of each one. Flavor shines in purity.
Subscribe here to the newsletter of EL PAÍS México and receive all the informative keys of the current situation of this country
---