Hanging on the wall, right at the glazed entrance of the premises, this message can be read in neon lights: "You're the beer to my pong". You are the beer of my 'pong', in Spanish. A whole declaration of intent that includes the philosophy of the game that is fashionable among the young people of the capital and that some only knew until now through North American films: 'beer pong'.
The welcome sign is supported by a small sofa-like bathtub full of yellow ping pong balls, where the attendees queue to take photos and upload them to their social networks. "Do you speak English?" Asks the person in charge of allowing access to the main room, accustomed to receiving audiences of different nationalities.
A group of seven girls, aged between 19 and 22, have reserved one of the private rooms for two hours. The room, also made of glass, has a folding table 2.40 meters long by 70 cm wide. In the center of the board a logo reminiscent of the NBA, but in which the bear and strawberry tree typical of Madrid appear. On both sides of the table, six glasses with a little water arranged in a triangular shape, in which the opposing team must score the ping pong ball. The objective: to be the first to dunk a ball in each container and leave the opponent without any. Carlota, Sara and Claudia, from the blue team, have managed to score against their friends, from the red team. The winners screamed with the same intensity as the Madridistas when Sergio Ramos scored against Atleti in the 93rd minute of the Lisbon Champions League final. "I know this place because I live next door and I saw it as I passed by. It is our first time, but we will repeat, "says Carlota.
Lino Slegers Duarte, 30, is the person behind this idea that continues to add followers. Born in Gabon (Africa), to a French mother and a Portuguese father, eight years ago, after finishing his degree in Tourism in Paris, he moved to Madrid to ride his own business around 'beer pong'. First as a service that could be hired at parties, work events or bars and discos. Since October 31, 2020, in the midst of the pandemic, he decided to open his own space, located at 20 Doctor Fourquet street, and stop depending on others. "We are not a typical bar. Our license would be more like an 'escape room'. You hire a closed activity and that's where the drinks come in. One hour for 10 euros and two drinks or two hours for 15 euros and three drinks per person. You can choose between beer, wine, soft drinks, cider… Although we always run out of the latter ", explains the owner.
The public that usually comes to the place is 80% Spanish and ranges between 24 and 35 years. "Although there is the belief that it is a game that men play more here, we have not noticed it. There are 50% boys and 50% girls. And what works the most for us is word of mouth and social networks ", he adds.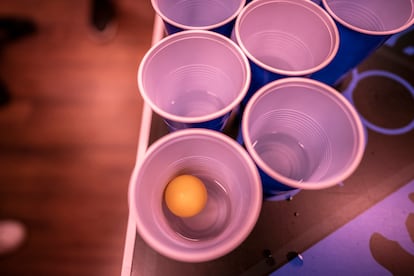 Beer Pong Madrid, a place located at 20 Doctor Fourquet street to play beer pong. Photo: Olmo Calvo Olmo Calvo
Slegers says that opening a business in this game exclusively was a 'plan b' that became a 'plan a'. "We had seven to eight weekly events before opening the store. We were doing well offering clients this service in their homes or businesses, but now I am more satisfied and I have my own team ". Among his plans, he hopes that Beer Pong Madrid, after having successfully overcome the capacity restrictions of the pandemic, it becomes a franchise and is extended to other parts of Spain and the world.
Without admitting himself addicted to this game, he considers having made it his passion and a challenge. "A lot of people still see it as an activity to get out of date in the garage of an American house and it is not. My intention has always been to demystify that idea ever since I learned to play at a college party. It is a concept that I try to change and I have been very determined that it has to work, "he says.
The truth is that the place does not smell of alcohol, rather a squash room that borders on nightlife. The owner says that this is one of the advantages that he has found to the time limitation due to not having a bar license. They open from 5:00 p.m. to 11:00 p.m. "You avoid complications such as fights, drugs, robberies … Last week was the first time we picked up vomit," he laughs.
On one of its walls, mostly covered in graffiti, you can also see what Slegers calls "the wall of fame." Photos of 'influencers', of video clip scenes that have been shot in the room, including a photo of him and his team on the television show 'Got talent' they attended to promote this game. "There are many people who have even come to take pictures in the bathtub or the neon light of the entrance and not to play," confesses the businessman. The world of networks.
Subscribe here to our daily newsletter about Madrid.
---