Elvis Costello even takes selfies, as shown in this one he wanted to share with ICON.
Elvis Costello (Paddington, London, 67 years old) speaks from a room in his house in Canada, where he lives with his wife, Diana Krall, and where he has not stopped working since the pandemic began. In this time he has had time to record a new album, Hey Clockface, coordinate the luxury reissue of one of his classic albums, Armed Forces, and realize a project that can be described as eccentric: rebuild his first classic, This Year's Model, from 1978, in which he was supported by the trio The Attractions, using the original recordings of the music and 19 Latin vocalists singing in Spanish.
A curious list: Juanes, Sebastián Yatra, Pablo López, Luis Fonsi, Vega, Jorge Drexler, Fito Paez, Draco or Morat. Costello loves these experiments: the same is recording a cover album with Swedish mezzo-soprano Anne Sofie von Otter than songs in French or an album with a hip hop group. This is nothing more than a curiosity. Some singers are more successful than others, but none are particularly memorable. "The idea came from a dream, really," he says, putting on that sly smile that characterizes him and that makes it difficult to distinguish if he is serious. "I had remade with Sebastián a song from the album with a female voice for a series," he continues. Meanwhile, the aforementioned, Sebastián Krys, a famous Argentine producer who has worked with him, looks at him from another Zoom window. "Sebastián realized that the original songs, which were recorded in 1978, sounded very good, very compact and that meant there were a lot of possibilities. So I blurted it out: 'Why don't we do the record again? Whole. In Spanish".
Surprise overcome, Krys went to work. "The first thing we looked for were voices that would work with each song. Some asked us for a woman. Others, a man. I selected two or three, I sent him links and he chose ", explains the producer.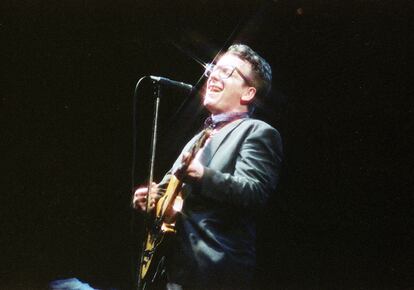 Elvis Costello performs during a summer 1983 performance in New York, Bill Tompkins (Getty Images)
"I knew some of them, but it was an opportunity to discover great singers," concludes Costello. "I was looking for many things. Transformations like the one Draco has done, but also seeing in the youngest that feeling of not being afraid and discovering things that I had when I recorded it. When I hear that record 45 years ago, I hear the debut of a group. It is the sound of a band that did not exist four months before ".
A little history. In 1975, Elvis, then Declan Patrick Aloysius McManus, was a clerk from Liverpool who at the age of 21 was already married with a son. But he performed in pubs and he must have had something because he caught the attention of Stiff Records, an independent label that signed him in 1977. It was the label that proposed his stage name: Elvis, to provoke, because he was ugly and wearing glasses. Costello was his mother's maiden name. When the new wave, his fast-paced sixties pop found a place. He quickly became one of the stars of the moment. Today he is the one who has gone the furthest from that generation. A star that touches Penny Lane in the White House with Barack Obama and Paul McCartney sitting in the front row. "When I recorded This Year's Model I never thought it would come to that. We just enjoyed ourselves. Everything was new. Things as exciting as the first tour of the United States ".
There is a black and white video on YouTube of a New Jersey concert from that tour: Elvis Costello & The Attractions were a compact and electrifying quartet. They had what flamingos call power. "I have seen that video. It is true that we were very good. I remember that at the end a guy with a leather jacket and a bandana on his head appeared in the dressing rooms. Suddenly I recognized him, it was Springsteen. We were mutual fans and what we basically talked about is what would be next. And the next thing I suppose was another step that ended up taking me to the White House, playing for Paul McCartney, for whom I wrote 15 songs once. Another thing I never thought I would do. "
In case you're wondering, no. Costello does not speak Spanish: "Spanish fascinates me. I've always liked the sound of that language, even if I don't understand it. My father spoke Spanish. He was the singer of an orchestra and in his repertoire there were songs in Spanish. For one reason or another, my father and I never spend much time together, but one of my first memories is sitting in a box in a dance hall, because then bands were taken to play live so that people could dance, and he singing in Spanish. I loved the sound even though I didn't know what it was saying. At the age of seven or eight, seeing your father on a stage, even in an almost deserted dance hall, had a bit of magic. I will never forget".
You can follow ICON on Facebook, Twitter, Instagram, or subscribe here to the Newsletter.
---