The life of social educator Helena Guerra changed the day she built a robot with her son in 2009. She saw the potential that this extracurricular activity had, dropped everything and turned to developing Coconet, the first robotics school in Cáceres: "We were pioneers, now there are six centers in the province." This 60-year-old from Cáceres directs the international tournament World Robotics Industrial, which has been bringing together teams of children under the age of 13 for eight editions to design live robots and program them with a specific objective. The participants, who barely lift a few feet off the ground, are proud: "It's about building a robot and making it come to life, programming it to do what we want," explains Guerra.
In this case, the challenge of the contest is to make the machine travel a path in the shortest possible time, avoiding the obstacles that it encounters in its path. The emotion exhibited by the little ones is shared by their parents. Everyone got up early to attend the tournament at the Embarcadero, a large industrial warehouse on the outskirts of Cáceres where the tournament took place last September. The kids run around cooler than anyone else to assemble parts and install their computers while Beatriz Martín, 54, mother of Aimar, nine, celebrates the creative freedom that is not found in the classroom: "No one here teaches him a lesson. tools to devise a solution ". The aforementioned, with milk teeth and an everlasting smile, appreciates the help of his colleagues: "Between all of us it is easier." Challenges must be solved as a team, which contributes, according to Guerra, to socialization.
The public observes the development of the competition in the robotics tournament of the Embarcadero, in Cáceres.ROBERTO PALOMO
Manuel Vinagre, 45, recognizes with laughter that his son Hugo, 10, is "an earthquake" and that robotics, as an extracurricular activity that he practices three hours a week, has helped him to enhance concentration: "The key it is that he learns through play, and that makes it easier for him to assimilate apparently complicated concepts while having fun ". Guerra adds that they gain confidence and security: "Self-esteem is complemented by tolerance for frustration when they cannot solve a problem the first time."
Educational robotics mixes mathematics, technology, science and engineering, and uses the creation of machines for children to develop logic and creativity. A discipline that offers a new way of teaching where kids are autonomous and teachers are limited to giving them tools to develop their potential. It can also promote social awareness, as pointed out by Juan Antonio Reifarth, president of the science club Okola, a center dedicated to designing androids to improve society. This 45-year-old man from Cáceres defends the importance of combining technology and the environment: "An incredible project was that of sustainable cities, with which they designed robots to avoid wasting water in a public canal," recalls Reifarth. Elisa Marcos and Ricardo Bote, both 10 years old, say that they programmed the machine to detect water leaks and breakdowns through the sound they emitted. Nicolás Caro and Pablo Floriano, aged nine and eight, also highlight their robot-trash can with GPS, built to automatically collect its owner's garbage: "So there is no excuse not to recycle!", Add the two kids high five.
The winners of the robotics tournament: Hugo Vinagre (8), Pablo Floriano (7), and Nicolás Caro (9) .ROBERTO PALOMO
The most popular educational robotics equipment for children under 12 is Lego Wedo, a special set of parts that has its own programming environment and includes a motor, a distance sensor and a tilt sensor. Vega explains that older people often use Arduino, a programmable electronic board with many possibilities. Many kids, like Miguel García, nine, are ambitious: "When we are older we will do even cooler projects," he adds vehemently. "This is for all ages and is not for the gifted, now all children are digital natives and education should adapt to this circumstance", Reifarth ditch.
All projects follow the same scheme: look for information to solve a problem, propose ideas, find the tools to implement them, and try to find the right one, learning from mistakes in the process. "I am not a teacher, I am a companion," Reifarth clarifies. Hugo Vinagre and his colleagues Pablo and Nicolás say that they experiment with trial and error: "We screw up many times but the robot ends up paying attention to us," they say between laughter. Sule Vega, telecommunications engineer and coach of the Coconet school, delves into this idea: "This is how the desire to innovate is spread, and when they are adults, have the courage to undertake their own projects."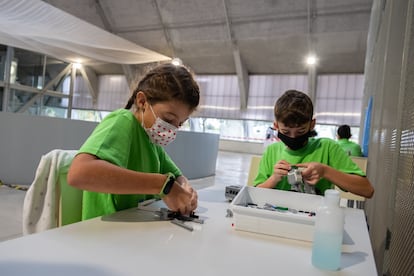 Elisa Marcos (10) and Ricardo Bote (10) working with Lego pieces in the robotics tournament in Cáceres.ROBERTO PALOMO
Robotics is still a little known discipline in Spain. Carlos Soler, an expert on the subject and a teacher at the Autonomous University of Barcelona, ​​points out that robots are accessing our homes, streets, operating rooms and classrooms without us noticing: "In six years the World Robot Olympiad (the national competition) has multiplied by 10 the number of registered in its tournament, more and more young people are interested in this ". 40% of Spanish industry uses robots and this percentage will increase in the coming years, according to the annual report of World Robotics Industrial. Soler is clear about the challenge: Incorporate this discipline into official teaching.
Another challenge is to add more girls to robotics and promote an equality that currently leaves much to be desired. Guerra laments the prejudice that prevails socially to see this activity typical of the male gender: "Now I have a group of five girls because they have requested it, it is a breakthrough." In the current tournament there are only two girls competing, and in robotics schools, the presence of men is still much higher than that of women. Begoña Berlana, 45, and Juanjo Cayuela, 47, parents of Verónica Cayuela, nine, do not forget the phrase that the baby told them when they proposed to inscribe her: "I don't paint anything there, because that's a boy's game." The marriage celebrates that that is parked, and that they can see Verónica in an activity that she is passionate about. Helena Guerra gives hope for the future: "Robotics will develop more and more, and we hope it will be with as many men as women."
You can follow EL PAÍS TECNOLOGÍA at Facebook and Twitter or sign up here to receive our newsletter semanal.
Sign in to continue reading
Just by having an account you can read this article, it's free
Thanks for reading EL PAÍS
---