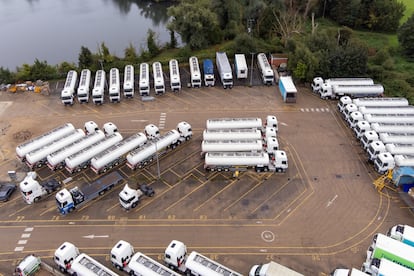 Trucks in a depot in Fenstanton (UK), this Saturday DPA via Europa Press (Europa Press)
The shortage scenes in supermarkets in the UK have exposed a problem that the transport sector has been warning of for years: the lack of truckers. In the British case, the Brexit factor has put even more obstacles to foreign workers, in an aging sector, with harsh working conditions that worsen and without a clear generational change. Carrier organizations warn that it is a widespread problem in developed countries and as the profession evolves, they estimate that Europe needs 400,000 drivers to meet the demand in the sector.
In 2020, a fifth of truck jobs were left unfilled in Asia and Europe. The World Road Transport Organization (IRU) warns: "This is a chronic problem for a long time." The median age of truckers exceeds 50 years, but young people do not see the profession as an attractive option. Unions point out that deregulation, liberalization of the sector and outsourcing it to third countries with lower wages has weakened the industry. In 2020, the percentage of drivers under the age of 25 was 5% in Europe and Russia, 6% in Mexico and 7% in Turkey. Furthermore, only 2% of truck drivers are women. "If there is no relief we will find ourselves with a lack of drivers", warns Juan José Gil, Secretary General of the National Federation of Transport Associations of Spain (Fenadismer). "This implies that the merchandise cannot be supplied."
Analysts estimate that 400,000 drivers are needed in Europe, data taken from the evolution of the sector and the average age of truckers. According to a study by the research group Transport Intelligence, the most affected country is Poland, which needs more than 120,000 transport professionals; in Germany the figure ranges between 45,000 and 60,000; France needs about 43,000, and the crisis has exposed that the United Kingdom needs about 90,000. "Spain is not one of the countries that are in the worst situation, it is estimated that 15,000 are needed, which is less than 5% of the total workforce of drivers who are active," explains Gil, who points to the economic recovery after the pandemic as another pressure factor.
More information
"Every time there is economic growth or a recovery like the current one, there is a greater demand for transport because there is a greater need to supply merchandise and transport companies with their usual staff cannot meet that demand, that means that they have to access the job market to look for drivers and, unfortunately, despite the high percentage of unemployed in this country, we do not have a driver pool to cover the needs ", says the Fenadismer manager. In the United Kingdom the problem has worsened as a result of Brexit "foreigners can no longer work and have reduced the pool of potential drivers, a profession that is no longer attractive." And it requires a lot of sacrifices. "You spend many days sleeping away from home, it is a lonely job, in a three cubic meter cabin, nine hours behind the wheel, which also not only involves driving, unfortunately they force them to load and unload the goods when they arrive at their destination and this is something that we have asked to be banned as Portugal has done ", emphasizes Gil.
The images of the empty shelves in the United Kingdom and the fights in the lines of the petrol stations have served to open the eyes to the demands of associations such as the European Transport Federation (ETF), which represents more than five million workers. of 200 transport unions from 40 countries, who regret having received attention "only now when we see and feel in our daily lives the direct effects of the driver shortage reflected in the fuel crisis or in the lack of food and other products in our stores ", said its general secretary Livia Spera. The organizations also ask for security and basic services to dignify the profession. In the EU, there is a deficit of 100,000 special parking spaces for trucks to meet the total demand, and only 7,000 of the 300,000 (less than 3%) are in areas certified as safe and protected, according to ETF. "Young people and women are not interested in a job that lacks decent working conditions," emphasizes the union.
Join EL PAÍS now to follow all the news and read without limits
Subscribe here
The problem, the long distance
It is a complex sector to which new factors are added. "In recent years many drivers have opted for short-distance transport. They have increased services such as parcels or short distance shipments, which involve spending at most one night out and, although they charge less, the rest of the week they sleep at home ", explains Dulsé Díaz Fresno, deputy general secretary of the Spanish Confederation of Freight Transportation (CETM). The problem is on long-distance journeys. Díaz insists on the demand for work and the treatment of drivers, recalls that during the pandemic they were not allowed to enter a logistics platform to use the bathroom, but they were required to unload the truck. "That is a shame and makes it difficult for the woman to arrive [a la profesión] they are fantastic drivers from the point of road accident ". Another problem is that "the EU is a single market and in the end you compete with countries that have much cheaper labor and that causes transport prices to remain low."
Among the proposals to make this job more attractive, they point to measures that make the profession less harsh, such as prohibiting loading and unloading, establishing safe parking areas and a plan to make it easier for the unemployed to obtain a truck driving license – which is between 3,000 and 6,000 euros – because, according to the general secretary of Fenadismer, "there is safe work here."
"This job without vocation cannot be done"
E. P.
The associations agree that, after long driving hours and the absence for weeks from home, which was previously compensated by a good salary, they face less financial compensation and, above all, pressure to carry out other tasks in addition to carrying out the merchandise. A situation that Begoña Urmeneta knows well, a truck driver who has been behind the wheel for more than 25 years for whom this profession is "a passion", but who sees with sadness how interest among the youngest is disappearing.
"This job without vocation cannot be done," he assures by telephone from the port of Valencia where he meets his 40,000-kilo tanker. For Urmeneta what has happened "is the tip of the iceberg, people are not aware of what is coming. This does not come from now, nor from Brexit, nor from the pandemic ", but from a deterioration of the profession that he assures began 20 years ago. "Little by little they began to lower not only salaries, but also working conditions, which are much more important than salaries." He complains that he now has to unload his truck, without taking into account his meal times and breaks, and also of the unfair practices of some companies to hire foreign workers in worse conditions.
"I retire in eight years, my generation entered because you like the truck, the next one came because there was nothing else to work with and they are the ones who do not want their children to get on a truck." A mother of two, Urmeneta quit her job as a waitress when an opportunity arose at her husband's company to get on the truck. In his case, his 31-year-old daughter will be the one to follow in his footsteps. Her son, 34, is a computer scientist. "Many people who have entered out of necessity are bitter," she laments, and recalls that when she got into her husband's truck for the first time and sat in the driver's seat, she had no doubt: "My head and my heart said this is what I want to do".
"As long as they don't really get involved in solving the problem, it will get worse and worse, in 10 years, let's see who brings you the shoes, the washing machine, the food?" He knows that it is not easy, but he believes that it is necessary to start with a plan so that conditions improve and reduce the time away from the family. "It is not necessary for a man to take a truck from Huelva and travel through England, then Germany and then go to Poland and then go down to the Czech Republic and Italy before coming to Spain. With the technology that exists, with the train corridors that exist, it is not necessary for any truck driver to spend a month away from home ".
Follow all the international information at Facebook and Twitter, o en our weekly newsletter.
---