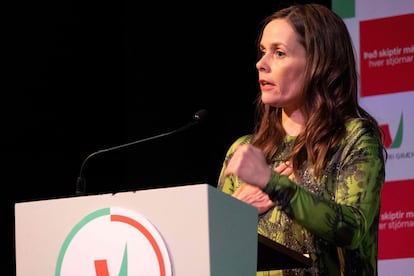 Katrín Jakobsdóttir, during a rally on September 25. TOM LITTLE / AFP
Iceland became the first European country with more women in Parliament (Alingi) this weekend, according to the results of the general elections held last Saturday. Of the 63 seats, 33 will be occupied by female deputies, as reported on Sunday by public television. Only three other countries in the world (Rwanda, Cuba and Nicaragua) have a majority of women in Parliament, while the distribution is 50% in Mexico and the United Arab Emirates.
In Europe, the countries with the highest percentage of female MPs, behind Iceland, are Sweden (47%) and Finland (46%), respectively. "This is good news," said the president, Gudni Johannesson. Iceland is considered the most egalitarian country in the world, according to the latest classification of the World Economic Forum, last March. Iceland has been at the top of that list for 12 years.
Meanwhile, the government coalition increased its absolute majority after the elections, although the fall of the Green Left Movement of Prime Minister Karín Jakobsdóttir, raises doubts about its future. The constellation formed by the rojiverdes, the conservative Independence Party and the Progressive Party (center) achieved 54.3%, a point and a half more, and 37 deputies, two more than in 2017, in a Parliament with 63 seats, 100% of the votes counted, according to the Electoral Authority.
Previous polls suggested that the ruling coalition would not reach an absolute majority. The rise was supported by the growth of the Progress Party, which won almost seven points and five terms and became the second force with 17.3% and 13 deputies, behind the conservatives, traditionally dominant in Iceland and with 24 , 4% fell slightly, although they maintained their 16 seats.
The Green Left Movement not only fell 4.3 points, it also lost three of its 11 seats and its continuity in the Government raises doubts, since the unprecedented coalition, with ideologically distant parties, that has governed since 2017 arose due to the complicated panorama post-election four years ago.
The conservatives of Bjarni Benediktsson, current finance minister, could govern with the progressives, their historical allies, and some other center-right formation.
Subscribe here
The Social Democratic Alliance remains the fourth force despite falling 2.2 points to 9.9% and loses one mandate to stay with six.
Regarding the composition of Parliament, the conservative Independence Party contributes seven women deputies, one more than the Progressive Party and the Green Left Movement.
Follow all the international information at Facebook and Twitter, o en our weekly newsletter.
---