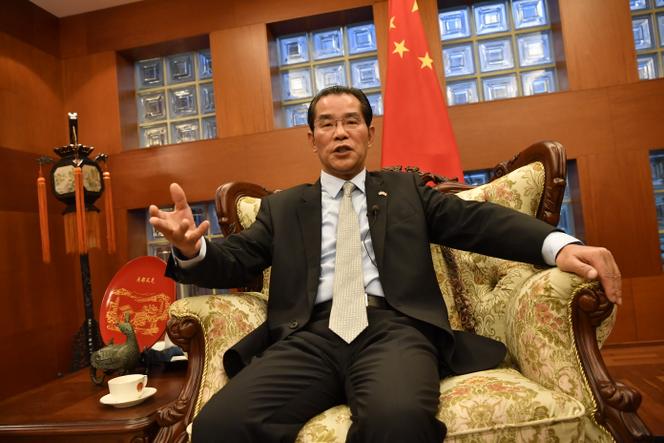 Chinese Ambassador to Sweden Gui Congyou addresses the media November 15, 2019 in Stockholm, Sweden. JONAS EKSTROMER / AFP
Few in Sweden will regret his departure. Thursday, September 23, the Chinese Embassy in Stockholm announced that Gui Congyou, its very virulent representative in post since 2017, was returning to Beijing. Rather unusual fact: on social networks, journalists, researchers and politicians, accustomed to wiping the wrath of the diplomat, publicly expressed their relief to see the departure of the one who embodied, for four years, the growing aggressiveness of China in the against Sweden.
During this period, this specialist in Russia, who confessed to the newspaper Svenska Dagbladet in January 2020 "not knowing why he had been sent to Sweden", harassed all those who dared to criticize Beijing. Stunts that have earned him at least forty invitations to the Ministry of Foreign Affairs, according to the SVT channel. Several political parties – the Christian Democrats, the Sweden Democrats (far right) and the Left Party – demanded his dismissal.
Since June 2018, Gui Congyou had been using the embassy's website to carry out these attacks, under the heading "remarks by the spokesperson for the Chinese embassy" – a kind of blog in English – where he published more than sixty- ten messages, denouncing pell-mell "the lies" of Swedish politicians, "the madness" of human rights activists, the "absurd remarks" of a researcher … After the presentation in September 2020 of a report by Frivärld think-tank, analyzing the content of the messages, the diplomat changed his tactics: "He started sending e-mails directly to people to threaten them", notes journalist Patrik Oksanen, author of the report.
"Hunting rifles"
At the same time, Gui Congyou has increased the number of interviews in the local media. In a vindictive tone, he explained that China was "forced" to react to the "criticisms and smear campaigns" which targeted it. Asked, in December 2019, by a journalist from Swedish public radio, about the vehemence of his comments, he replied: "To our friends, we offer good wines, for our enemies, we have hunting rifles", before to clarify that it was just a "metaphor".
Article reserved for our subscribers Read also The Gui Minhai affair, symbol of diplomatic tensions between Sweden and China
"The ambassador represents the government of his country and he would not have done so without the endorsement of Beijing," said Björn Jerden, a specialist in China. at the Institute for International Studies, Stockholm. The academic is on the list of ten Europeans to whom Beijing has decided to ban entry into its territory, in retaliation for European sanctions.
You have 57.59% of this article to read. The rest is for subscribers only.
---