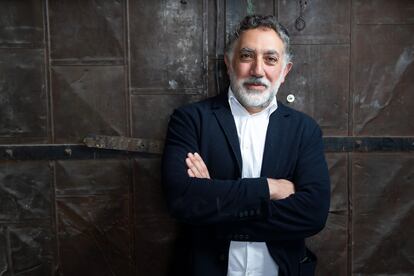 The architect and academic Hashim Sarkis, in a picture this year in Venice, Bryce Vickmark
Architect Hashim Sarkis (Beirut, 1964) had the 17th Venice Architecture Biennale ready when the pandemic struck. Two years later, the question on which the meeting had focused –How will we live together? – it struck a totally different chord. The Biennial was inaugurated last May, and the architect did not even think about changing the slogan despite the hurricane that the coronavirus meant for daily life. "It is as pertinent as it is ironic," he sums up. in an interview the doctor of Philosophy and dean of the School of Architecture and Urban Planning of the Massachusetts Institute of Technology (MIT).
Sarkis is one of the star guests of Mextrópoli, the largest Urbanism and Architecture festival in Latin America that Arquine magazine organizes in Mexico City. Living between Cambridge and Venice for his work as a teacher and in front of the Biennale, his participation will be virtual. "The pandemic has brought architecture to the fore. Now we are much more aware of our surroundings, starting with what we have around us when we stand in front of the camera ", he affirms by video call.
Question. Will you be surprised not to have come to Mexico?
Answer. I was at least three times there. Mexico City is a beautiful metropolis. Everyone should see her, and her jacaranda trees. The other day I was in a taqueria in my city and, even though I had already visited it before the pandemic, I noticed that I had another life. A taqueria like those on any corner in Mexico is an ideal space for our situation: under a simple tent, on the street, that so soft place that they invented between the interior and the exterior. It is always said that Mexico is in trouble and that it has its crises, which will be true, but it has much to teach other great cities of the world.
More information
Q. What is your biggest urban problem?
R. Traffic is a crisis, access to housing, infrastructure in general. But Mexicans are very resourceful with their use of public space. The taquerías are just one example, but it is everywhere. There is an ability to adapt tight spaces for any type of public activity, in the way in which so many means of transport converge with a certain harmony in their neighborhoods.
Q. Were the cities prepared for the changes we have experienced?
A. Everything we've been doing, including Zoom, already existed before the pandemic. The crisis has accelerated certain changes, which are so tied to the crisis that we assume them as a consequence of it. They will probably continue and we will forget about that connection, which is something that also often happens after a crisis.
Q. What changes have caught your attention?
A. This great discussion about the exodus from the cities, about people moving to the suburbs or rural areas. It's impressive, but it only applies to rich people.
P. What is left for the vast majority of the population?
A. Cities have flourished during the pandemic. A simple sidewalk, for example, has a whole new meaning when it becomes a place where meeting the other is safer. We have created new spaces to meet, and I think we are much more aware of the importance of the spaces we share. That we need to think better about our cities because they offer us that infrastructure that the vast majority cannot procure on their own.
Q. How is this social role of architecture reconciled with housing without minimum conditions, with a restrictive market, with phenomena such as gentrification?
R. Architecture has always been an art that depends on patronage. Be it royalty, the church, or corporations and foundations. Even so, his creative capacity has been maintained, his way of projecting a future that is not necessarily dictated by our current way of life.
Q. Your own question: How will we live together?
R. In raising it, one would expect it to come from an ambition to solve all our problems. The truth is that we have only one particular contribution to the problem, the ability to unleash the imagination in the hope that those ideas will have an echo in society and politics.
Q. In the immediate future?
A. We have to understand our diversity and the space we share with other species. Only 30% of our homes are made up of a nuclear family, why are we not attentive to the different ways of collective life? There are also emerging communities, from millennials even migrants, whose ideas of citizenship are different. Why not give them places that give them their own institutions, public spaces? We have to think beyond our current categories, starting with the difference between city and rural areas.
Q. You have been a teacher for 20 years, do you ask yourself these questions?
A. It is already clear that public health means improving our cities. How will it continue? It's too early to tell. In Mexico I see a lot of hope in people who seek to reconnect with the landscape, I have students who wonder these things thinking about the nature that sleeps under the city, the rivers, the volcanoes, it is time for them to be part of the life of the town. The Mexican capital is one of the largest cities on the planet, with infinite problems, but in the midst of all that it also lives and moves.
Subscribe here to the newsletter of EL PAÍS México and receive all the informative keys of the current situation of this country
---