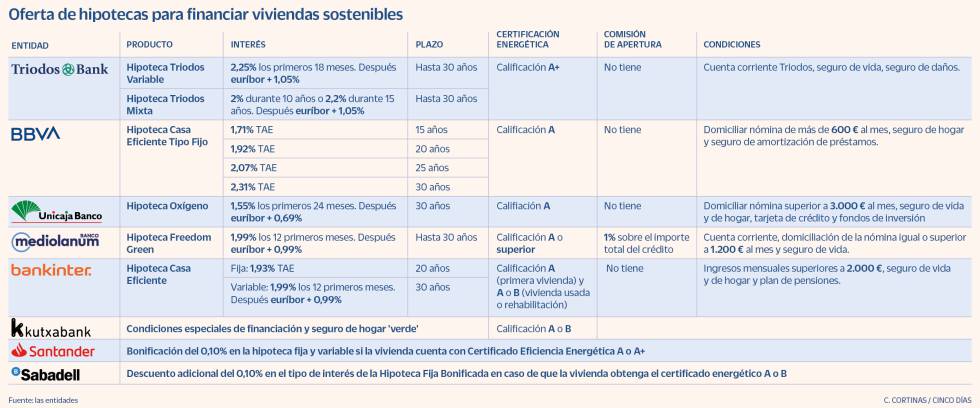 The world thinks more and more in green and banking, too. The megatrend of sustainable finance has accelerated with the pandemic and regulatory advances, which aim to bring more transparency. Financial institutions are aware of the growing interest in ecology and are increasing their offer of environmentally friendly products.
"There is going to be a great movement of funds towards sustainability and we are seeing a boom in green products in financing and investment," says Francisco J. Sanz Piedrafita, head of sustainable finance at Ibercaja. "There is an explosion of sustainable sensitivity," says Gonzalo Rengifo, general director of Pictet AM in Iberia and Latam.
Many banks have gotten the hang of it and are redesigning their catalogs, converting products to label them green, and creating new ones. A movement that, according to experts, has come to stay. "Sustainable banking will become commonplace," says an industry manager.
Mortgages to finance highly energy-efficient homes are gaining ground, while responsible loans have multiplied, as have investment funds with a green label. In deposits there is also some proposal.
Green mortgages
The list of banks that encourage the purchase of more sustainable houses with better financial conditions increases little by little. Generally, green mortgages offer interest rate bonuses or eliminate commissions if the home has the highest energy rating (B, A, or higher). Of course, they require links and have expenses like any other mortgage loan.
Bankinter has been the last to take the step with its Efficient House Mortgage. The financial requirements are the same as in standard fixed or variable mortgages, but exempt from the opening commission (which normally amounts to 500 euros). Triodos Bank was a pioneer in this market and offers better rates the higher the efficiency of the property. Its head of mortgages, Emilia Fernández, advances that there will be "news" in the bank's offer.
BBVA has a fixed rate from 1.75% APR to 15 years with the maximum linkage in its green mortgage. Banco Mediolanum gives 1.99% the first year and then Euribor plus 0.99%. For its part, Unicaja maintains the commercialization of the Oxygen Mortgage at the offices of the absorbed Liberbank, although it expects that "later" it will be available throughout its network. The one that will be "shortly" is the Real Madrid Mortgage, which also discounts rates on properties with a minimum grade A.
There are already eight banks that reward the purchase of more efficient houses
Santander discounts up to 0.10% the fixed and variable rate on homes with energy rating A or A +. Sabadell makes the same discount on its Bonded Fixed Mortgage in the case of A or B certification. For this type of property, Kutxabank offers special conditions and green home insurance. He points out that 25% of the mortgages he signs are green.
Cátia Alves, director of sustainability and CSR at Unión de Creditos Inmobiliarios (UCI), believes that green mortgages "are an increasingly widespread solution among entities", but they are still largely unknown among users. In his opinion, as it is already perceived, these products will increase in the coming years. For her part, Silvia Escámez, CEO of Finteca and Prohipotecas, does not see great advantages over the standard mortgage and considers that "as long as there is no fiscal support, in reality it does not present a great economic offer for the client."
Loans
Bank loans to business and private clients for green solutions have proliferated. CaixaBank led sustainable financing in Spain in the first half with operations for 7,200 million, according to the Refinitiv ranking. The entity promotes renting by focusing its offer on ecological vehicles.
Sabadell and Santander are also breaking records in this segment. The first formalized until May more than 3,240 million, of which 300 million correspond to mortgages, loans, renting and leasing. Santander, which offers photovoltaic leasing, the Ecological Car Loan and the Green Reform Loan, has provided 42,000 million between 2019 and June 2021 and wants to mobilize 120,000 million until 2025. By that date, BBVA, which subsidizes the interest on its Energy Efficiency Loan , expects to have disbursed 100,000 million.
"These loans that are already offered by almost half of the entities tend to finance higher amounts, have longer terms and lower interest rates that average around 5% APR," they point out in HelpMyCash.
The offer of loans for eco solutions is growing and the trend is that it continues to increase
The offer is wide and the trend is for it to increase. Ibercaja has the + Sustainable Housing Loan and the Vamos Coche. Kutxabank and Cajamar also finance reforms to reduce energy consumption in homes, as well as the purchase of hybrid and electric vehicles and solar panels. Banco Mediolanum has the Guaranteed Loan for Car 0 issues.
At Triodos Bank, the entire loan portfolio is for responsible investment purposes. Unicaja has expanded its range with the Eco Verde Motor Loan and the Uniplan Futuro Sostenible, its first sustainable pension plan.
In terms of payment, Bankinter has the "Bankinter Solidarios" card, with no issuance or maintenance fee, which allocates the profits generated to social action projects. Kutxabank is renewing its cards for a new more respectful model with the environment. Since this year, the cards sold by CaixaBank are made only with recycled and biodegradable materials. The Santander All In One card in Spain is now free of contaminants and will be all those manufactured in Europe in 2025.
In imagin, incentives for new clients replace the traditional gift with sustainable actions, such as reforestation or donations to charitable causes.
Deposits
With downturned deposits profiting from practically zero due to the ECB's low interest rate policy, many entities no longer even offer them. Thus, only green deposits are part of their plans, whose funds are used to support the financing of sustainable assets, such as renewable energies. However, in the bank's eagerness to go green, initiatives have emerged, such as Deutsche Bank's DB Sustainable Deposit for 12 months and with a variable interest from $ 1,000. This deposit "is part of the entity's commitment to offer alternatives in ESG products for different investment profiles," says its head of accounts and deposits in Spain, Fernando Camacho.
Not because they are green, their profitability is higher. Triodos Bank advertises ethical deposits, at 12 months at 0.05% APR, starting at 3,000 euros.
The head of Raisin in Spain, Mónica Pina, considers that "there is real interest in this type of products and proposals", and announces that the fintech "is in talks with several partners to offer them and we hope to be able to do so in the future."
Money
"All investment funds will end up being sustainable because the investor is going to demand it. It is a question of survival ", Gonzalo Rengifo, from Pictet, is so blunt, who assures that managers and banks" are making an important effort to offer sustainable portfolios "in compliance with the new European regulation, which It forces us to classify these products from less to more sustainable and demands greater clarity in the information given to the customer.
Regulatory support is one of the factors that is driving this market, according to experts. In addition, the demand is getting stronger, given the greater environmental awareness. Thus, about five years ago the Spanish supply of funds linked to sustainable investment was small and of little volume, but now it has exploded and many funds are emerging, both actively and passively managed (ETFs).
Less than 10% of Spanish funds are clearly sustainable
The CNMV records that less than 10% of the Spanish funds on the market have been classified as clearly sustainable, although it expects the figure to increase.
Sustainable funds reached 23 trillion dollars on a global scale in 2020 and, if this trend continues, they can represent two thirds of the total assets managed in the world, points out Luis Sánchez de Lamadrid, general director of Pictet WM in Spain.
The managers of Spanish banks usually have several sustainable funds. Bankinter has one of the most profitable, the Bankinter Energy Efficiency and Environment, which rises 35% annually this year. ING offers individuals the thematic fund NN Global Sustainable Equity, with an accumulated annual return of 25%. Mediolanum and BBVA funds also exceed a 20% revaluation. The Santander manager has more than 10 SRI funds (Socially Responsible Investment), highlighting Sustainable Santander 1, with a Class A equity that exceeds one million euros.
Banks have also launched in recent years to issue green bonds
Banks have also launched into green bond issues. BBVA carried out the first in 2018 and is one of the most active entities. CaixaBank, Bankinter and Santander have been added. The latter was the issuer of the first green bond issued a few days ago by the Spanish Treasury, worth 5,000 million and that received a demand of 60,000 million.
.
---