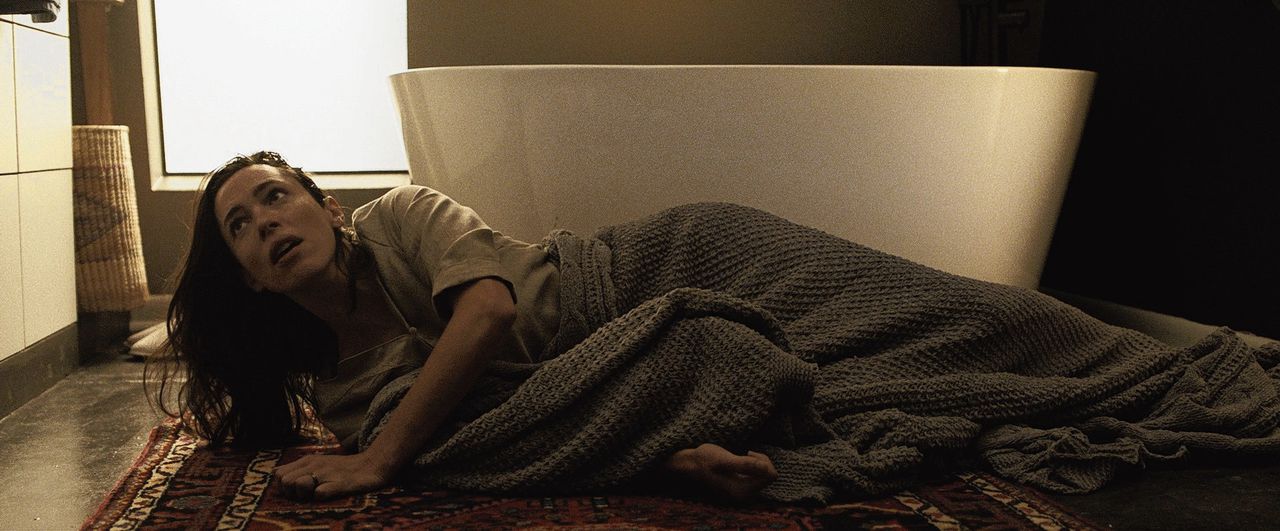 Horror movies can be a roller coaster ride that scares and delights you, but which you quickly forget. But horror can also dig much deeper. For example, the recent horror film Relic is about dementia and The Dark and the Wicked is about saying goodbye to your parents. Filmmaker Ari Aster made an impression with films in which bereavement plays a crucial role, which is why his Hereditary and Midsommar left a deep impression. The Night House can now be added to that list. It is a film that has something else in common with said titles: it is carried by an outstanding actress. After Florence Pugh (Midsommar) and Emily Mortimer (Relic), it's now up to Rebecca Hall to play a layered role.
Hall plays in The Night House Beth, a teacher whose husband just committed suicide. He did so on a small boat on the lake in front of the beautiful house that he built with his own hands. Shots of the moored boat open the film, it also reappears in the climax.
Most of the time, Beth mourns, a bottle of brandy within reach. But she is also angry, frustrated and full of guilt. She also has questions. Because why did he commit suicide? And that photo on his smartphone, is it her? Gradually, strange things happen in the isolated house by the lake. The sober and skeptical Beth senses a presence.
How it all works is unfolded very slowly and atmospherically by director David Bruckner. In doing so, he lets the camera glide stylishly through the rooms of the beautiful house. But it is mainly Rebecca Hall who steals the show, by turns vulnerable and combative.
The scene in which she receives a mother who comes to complain about her son's grade is illustrative of this. At first she is friendly, then she assertively explains how her husband shot himself in the head. The woman is startled, as is the onlooker who only then hears for the first time how Beth's husband died. Her passive-aggressive response, which came out of nowhere, makes you chuckle, no matter how horrific it is.
In addition to mourning, The Night House revolves around the question of whether there is anything after death. Beth, who was once involved in a near-fatal car accident, claims not. Her late husband thought otherwise. Ultimately, the settlement of the plot is just a bit too standard – with a voodoo doll and occult books – to be completely satisfying.
Horror
The Night House Directed by: David Bruckner. Starring: Rebecca Hall, Sarah Goldberg, Vondie Curtis-Hall, Stacy Martin. In: 42 cinemas
●●●●●
Newsletter NRC Film
The best movies, interviews and reviews of the latest movies
A version of this article also appeared in NRC Handelsblad on 15 September 2021 A version of this article also appeared in NRC in the morning of 15 September 2021
---