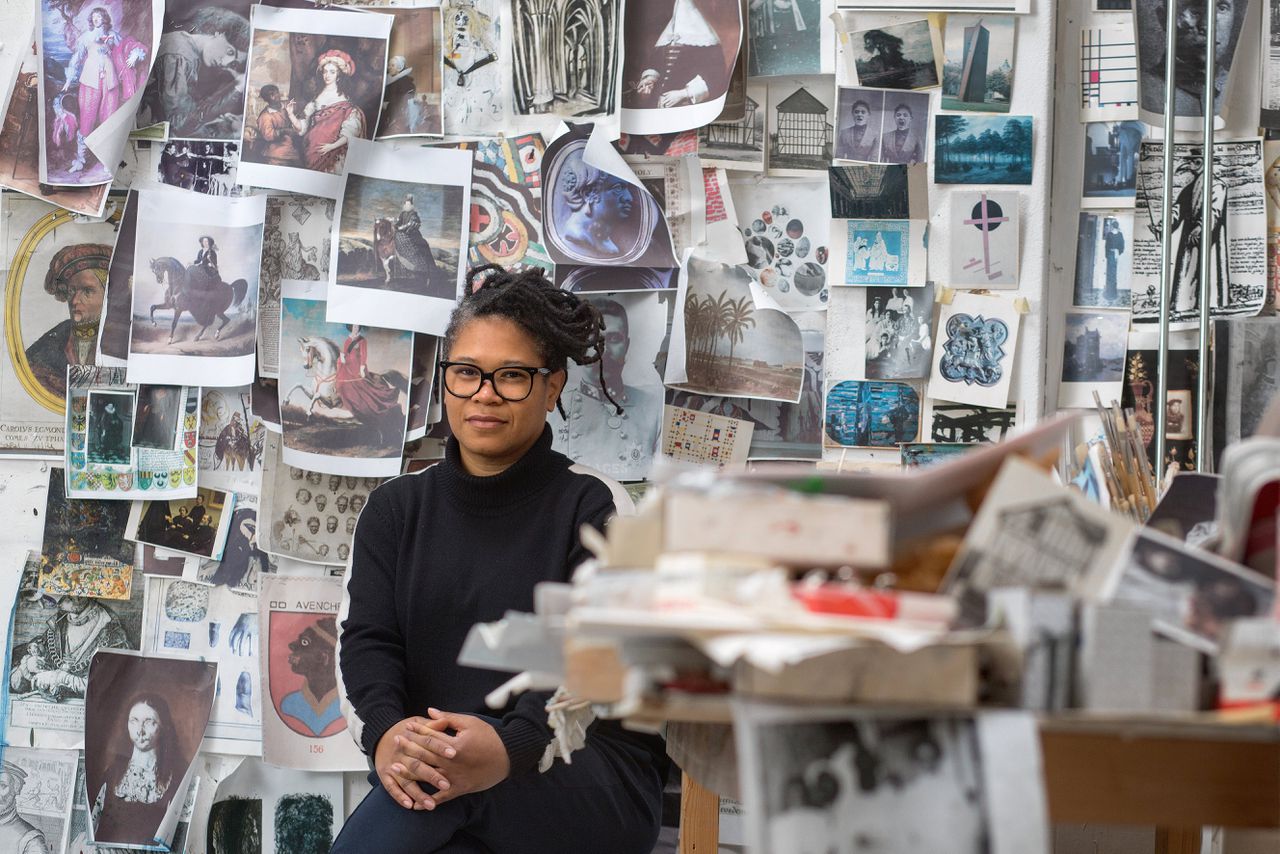 Natasja Kensmil is the winner of the Johannes Vermeer Prize 2021, the Dutch state prize for the arts. The jury praised Kensmil because she "makes a connection between heritage and current events in her own way", which she makes "penetratingly visible on canvas and paper". A beautiful and recent example of this is the painting series 'Monument der Regentessen', which can be seen in the Amsterdam Museum until early next year.
In the series, Kensmil comments on the role of women in the seventeenth century, where colonialism was the source of their wealth. The reinterpretation of history plays an important role in her work, which she often shapes in a rough and corrosive manner. Or scary, as some thought the portraits of the regentesses. The hollow-eyed women had something like ghostly figures.
Deformation
This reinterpretation is also what the jury – consisting of Andrée van Es, Pierre Audi, Romana Vrede, Hicham Khalidi and Sjeng Scheijen – considered important in the award: "Kensmil shows very well that it is a flawed history in which certain perspectives have been neglected. . With the many details, layers and nuances in her paintings, Natasja Kensmil confronts us with the dark sides of our human existence and our history." According to the jury, the work is "healing, constructive and critical at the same time". What the jury especially appreciates is that Kensmil does not "daub, remove and ignore, but rather distort".
The prize, consisting of 10,000 euros, is for starting a project within their own field of activity. Last year photographer Rineke Dijkstra received the award that was established in 2009. Previous winners are: director Ivo van Hove, violinist Janine Jansen, fashion designer Iris van Herpen, artist and filmmaker Steve McQueen, composer Michel van der Aa, graphic designer Irma Boom, architect Rem Koolhaas, artist Marlene Dumas, photographer Erwin Olaf, film director and actor Alex van Warmerdam and director Pierre Audi.
From 11 September Natasja Kensmil can be seen in the Fries Museum (Icons) and on 25 September a retrospective exhibition A Poison Tree opens in Kunsthal KAdE, in a parallel solo exhibition with Sadik Kwaish Alfraji.
Newsletter NRC Cultuurgids
What should you see, hear or listen to this week? Our editors review and tip
---