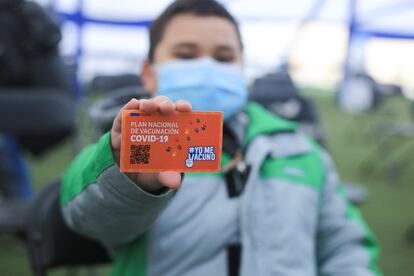 A child shows his vaccination certificate against covid in Santiago, Chile, DPA via Europa Press / Europa Press
Chile has begun to immunize minors between 11 and six years of age against covid-19 in vaccinations, according to a calendar of the Ministry of Health and, from September 27, it will do so in schools throughout the country, with the condition that the parents or guardians are authorized. When the virus is kept under control at the beginning of spring in most of the territory, with less than 300 cases a day and a positivity that does not exceed 1%, vaccination has started for the younger population, waiting for new studies authorizing needle sticks for boys and girls aged five and under. Immunization is carried out with the two formulas approved in Chile for this age group, that of Sinovac and Pfizer.
According to official data, 12% of those infected in Chile (1,644,832 people) have been under 18 years of age. Of the sick children, 1.7% have required hospitalization. There are 11 reported deaths, according to experts, such as Juan Carlos Said, master in Public Health. Enrique Paris, Minister of Health, in a meeting today with the foreign press recalled that "although children do not get seriously ill, they are a very important reservoir for covid-19." "As Chile has managed to have 87.2% of the target population vaccinated with two doses, people without immunization – such as minors – run the risk of becoming reservoirs and infecting part of their family, older adults and more susceptible people ", said Minister Paris.
More information
This Monday the immunization of boys and girls between the ages of six and 11 who suffer from comorbidities, such as diabetes, morbid obesity, have been transplanted or are treated for some type of cancer, began in the vaccinations. The immunization of minors between 12 and 17 years old was also resumed, which had been suspended on July 23, due to the shortage of the Pfizer formula, which was the only one approved in Chile at the time for this group of the population. According to the figure of the Ministry of Health, this Monday 52,289 children and adolescents were inoculated. Of these, 48,780 correspond to those between 12 to 17 and 3,509 to children six years of age and older who have some type of health susceptibility.
Paris reported that the ministry intends to inoculate 3,044,845 minors between 6 and 17 years old – the target population – and that as of this Monday, 24.21% had been vaccinated with one dose and 21.93% with two doses, a low figure still due to the end of July suspension. For a child to be pricked against covid-19, they must go to the vaccinations accompanied by their mother, mother or legal guardian. When the process starts in the schools, at the end of September, an express authorization will also be required. The minister explained that as these are approved emergency vaccines, they cannot be made mandatory and that the Chilean Law of Rights and Duties of the Patient stipulates voluntariness. Minors, like adults, are receiving proof of vaccination with a QR code, the minister said.
Although there is still no final diagnosis regarding the willingness of Chilean families to vaccinate children and adolescents, Minister Paris reported that there are signs of good reception. "In Chile, the tradition of vaccination programs shows that in children they are highly successful, with about 90% in the usual vaccines. According to the Catholic University that recruited 4,000 children and adolescents [para el ensayo de la china Sinovac, en agosto] and the number of people who wanted to register their children was gigantic, much higher than 4,000 places, "said Minister Paris.
In Latin America, countries such as Uruguay, Colombia and Argentina have begun inoculating minors –in Argentina those with comorbidities–, but only Chile and Cuba have started vaccinating young children. On the island, at the beginning of the month he started with the punctures against covid-19 in minors from the age of two, with the Cuban Sovereign 02 formula.
"In China, more than 40 million children and adolescents have been vaccinated. China's Sinovac vaccine is of classic manufacture, that is, it has the killed virus and is the same technology that is used in vaccines against influenza, for example. Studies in phase 1 and phase 2 – and we in Chile do another in phase 3 in children – indicate that it is highly safe, that it has a very low amount of adverse effects and that, in addition, it is immunoreactive in a very positive amount on all in children, who respond better than adults, "the Chilean Health Minister explained today.
While 81% of kindergartens and schools have returned to face-to-face classes, the South American country continues to vaccinate with booster doses to the population over 55 years of age, after detecting that immunity declines to 40% after six months, in the three formulas studied: Sinovac, Pfizer and AstraZeneca's. The Ministry of Health is concerned about the Delta variant – a thousand cases have already been detected in Chile, most of them due to community contagion – and the celebrations around September 18, national holidays, undoubtedly the most important commemoration in Chile that each year the population celebrates with special excitement.
Regarding a possible opening of borders, Chile is expected to announce some news in the next few hours, such as the fitting out of new airports for the entry of airplanes from abroad and other land crossings. Minister Paris, however, warned that Chile will continue to request vaccination and PCR prior to entry into the national territory.
Subscribe here to the newsletter from EL PAÍS América and receive all the informative keys of the current situation of the region
---