Dear pilot, dear flight attendant or flight attendant, have you been vaccinated against Covid-19?
Airlines in the European Union are not allowed to ask their employees this question. An employee does not have to share privacy-sensitive information about himself with his boss.
But the crew who will soon be flying to overseas destinations such as Trinidad and Tobago in the Caribbean, Thailand or possibly Canada soon, will have to answer that question. Because anyone who has not been vaccinated will not enter the country. Or have to spend the night in a room in a quarantine hotel.
For example, the strict entry requirements that Trinidad and Tobago will introduce on October 16 make the Caribbean archipelago a destination of sun, sea and vaccinations. Two weeks later, from October 31, KLM wants to fly three times a week to the capital Port of Spain. This is therefore only possible with vaccinated pilots and cabin crew.
Therefore the Dutch airline has been asking flight personnel since Tuesday to report it if they have not been vaccinated. Not with their managers, because that is not allowed under the privacy rules, but with KLM's medical service, the Health Services department. The service then registers a so-called 'travel restriction'.
That is not new, explains Vincent van Hooff. He is head of flight services, in full 'executive vice-president operations', at KLM. Airline personnel who are unable to travel to a particular destination for personal, visa or health reasons must report this to Health Services. If your visa has not been extended in time and you cannot go to the US or if you do not want to take pills for a malaria area because you are pregnant, the medical service will pass this on to the schedule makers. Managers do not have access to the background of the travel restriction. Nor in the vaccinations of KLM employees.
Fundamental refusers
"We do not schedule someone who cannot be deployed on a particular flight for that destination," says Van Hooff. "In this way we prevent an unvaccinated crew member from going on a flight and not being allowed to enter the country due to travel restrictions."
KLM employs 2,500 pilots and 8,000 cabin crew. Van Hooff does not know how many of them have been vaccinated, but he thinks that there are few fundamental refusers employed. "KLM is indeed a reflection of society, but everyone who is employed here already receives several vaccinations against tropical diseases."
The Dutch airline will not oblige its employees to be vaccinated, Van Hooff emphasizes. "We often get this question. It's not allowed, so we won't."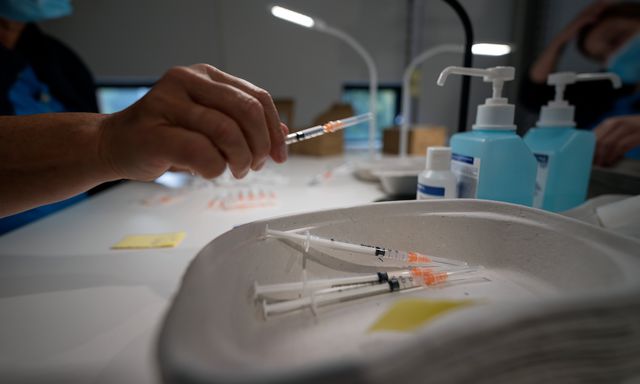 Also read: Boss and employee clash over vaccination because one has a duty of care and the other his privacy
An employee in the EU does not have to share his personal medical information with his boss. A manager is not even allowed to ask about it – even if the caretaker Prime Minister Mark Rutte on Tuesday during the cabinet's 'corona press conference' that employers and employees should 'continue to have the conversation'. A subordinate may feel compelled to report personal data.
Companies nowadays would like to know whether their employees have been vaccinated, according to a recent survey by the employers' association AWVN among more than six hundred companies. They want to use this information, among other things, to take extra protective measures for a safe working environment.
FNV Cabine, the cabin crew union, understands KLM's request for information to staff. "This is a necessary step to protect the workers," says Birte Nelen of the union. "The work cannot be arranged differently. Cabin crew cannot work from home or get started with a splash guard. KLM is more or less obliged to take this step."
Board member Van Hooff expects that more countries will soon introduce a vaccination obligation. "If more countries set entry requirements, this could lead to major operational problems for KLM."
Lufthansa
The German airline Lufthansa reported this month that crews should be vaccinated, but that announcement turned out to be premature. Lufthansa is now consulting with workers' organizations about the conditions for such a mandatory vaccination.
"International air traffic will not be feasible in the future without mandatory Covid-19 vaccinations for flight crews," a Lufthansa spokesperson responds when asked. "Many countries will require pilot and cabin crew vaccination certificates."
Lufthansa is working with staff representatives on associated agreements that – analogous to the yellow fever vaccination that is already mandatory – make a corona vaccination a condition for work. The spokesperson noted that the company does not intend to introduce a mandatory vaccination certificate for passengers on its flights or to make vaccination mandatory for non-flying personnel.
Airlines from outside the EU, such as the American United Airlines, have reported in recent weeks requiring flight personnel to receive a Covid-19 vaccination. The American Delta Air Lines offers employees the choice: either vaccinate or pay much more for company health insurance.
Qantas in Australia and the Swiss company Swiss simply require that flight crews are vaccinated. A spokesman for the Swiss sister company of Lufthansa told Reuters news agency: "It will be impossible for Swiss to continue flying worldwide without mandatory vaccination measures."
Budget airline Wizz Air also recently announced that all flight personnel must be vaccinated. Before December 1, all pilots and cabin crew must be vaccinated. In doing so, the Hungarian company may be violating EU privacy rules.
---