Image of Gather Town.
Luis Flavio Torres Gallardo runs around the office. He sneaks into the rooms, painting on the blackboards, moving the plants. "All this I have built", he says without stopping running, "although the truth is, I have no idea of ​​construction." He goes out to the street, where he is surprised to hear the sound of the sea. "Cool, right?", He says with an iota of pride throwing himself towards the beach. He has built it too. The journalist follows him and gets into the water. "I'm not going to drown, am I?" He asks. "No, don't worry, in Gather Town you can't die."
More information
Gather Town is a virtual world to hold meetings on the internet. It is a way of making a video calling game. The image of the participants is seen in a small window, but the entire screen is occupied by a pixelated and two-dimensional stage. The avatar of Torres Gallardo, legal and security consultant of this company, and that of this editor, who is chasing him around the virtual world, move freely through it. It's like meeting in an eighties video game, only there is no game over (something I confirm by keeping my avatar underwater longer than recommended). You don't die or kill yourself, you just organize meetings. Imagine a Pokemon game where instead of collecting fantastic beasts you have to go to the office. That is Gather Town.
Despite its aesthetics, Gather Town has long ceased to be a game. Torres Gallardo does not provide economic data, but confirms that millions of people have already passed through this virtual scenario. "We have grown exponentially," he says while our avatars take a walk on the beach. "Right now, weekly, we have around 120,000 users." The application (currently only available in an internet browser) was launched on the market in May 2020, with half the world locked up at home by the COVID-19 pandemic. Since then, its rooms have held work meetings, birthdays and business events. Even weddings. All events are hosted for free on the server, unless they exceed 25 participants. "If there are more guests the connection decreases. In order to avoid this, we should increase the capacity of the servers and that has some fees ", explains Torres Gallardo. In any case, the company assures that its main purpose is not economic. They want to help create something much bigger: the metaverse.
They are not alone in the attempt. Dozens of new platforms have set out to create a virtual world that mimics the physical one. And they have started with something as everyday as business meetings. AltSpace VR was one of the pioneers. Founded in 2013, this platform for hosting presentations and press conferences was acquired by Microsoft in 2017. Nottopia is a smaller virtual space, here only professors from the University of Nottingham teach. Virtulab replicates real world events in the virtual one. The options are many, but the one that has made the most noise to date has been Horizon Workrooms. Last August Mark Zuckerberg presented this virtual reality service. The new bet of the owner of Facebook, Instagram and WhatsApp is a virtual meeting room. The tool, which is in open beta, organizes meetings in which the video is replaced by an avatar with anime aesthetics. It may be that when talking about the metaverse we imagine a world similar to that of Ready Player OneBut the reality, even the virtual one, is much less epic. At the moment the metaverse has a cartoon aesthetic and is used, above all, to talk about balance sheets, costs and strategies. To hold business meetings.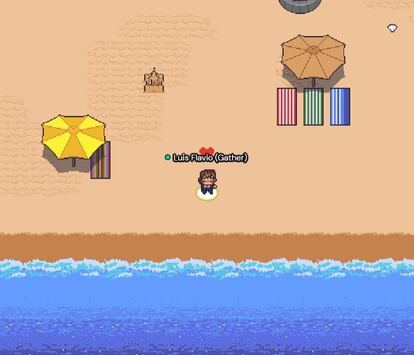 Image of Gather Town.
Turn coffee time into a game
Jorge Lana spent the afternoon playing and chatting with his teammates in Gather Town. Lana is the founder of Minimum Run, a digital product and marketing services agency. "We were born during the pandemic and we work remotely, despite having offices in Madrid," he explains. "That is why we do work dynamics over the internet. For example, we organize a virtual meal a week. Each one is at home, but we talk while we eat as if we were in the office canteen ". Lana does not believe that these applications will end up replacing the classic video calls. He still uses them for more serious purposes himself, but believes that Gather Town is a good environment to socialize virtually without extra effort.
Since the pandemic locked us at home, work video calls have multiplied. Companies say they spend three to five times more time on these tools than before, according to a survey conducted by Zoom. This company has gone from having 10 million users to 300 in one year. The use and abuse of video calls has generated the so-called "Zoom fatigue", a wear effect produced by seeing our face on the screen subjected to the scrutiny of others and by difficulties in capturing non-verbal language. That is why applications such as Gather Town want to reduce our physical image and enhance a virtual one, increase the freedom and the feeling of reality of these events that until now are limited to presenting a carousel of videos of our faces.
But is it possible to turn coffee time into a video game? Pablo Barrecheguren, neuroscientist and author of the book Neurogamer, How video games help us understand our brain, have doubts about it. "We are social animals and the stimuli that occur when we have coffee with a partner can be important," he says. "But today not all sensory stimuli that are present in a social interaction are digitizable."
Hiding under the faux fur of an avatar, instead of showing our image on a video call, can be less stressful, more comfortable. But it is also less real. "In social communication there is a layer of social interaction at the level of non-verbal language that is usually lost to a great extent in digital avatars," says the expert. For this reason, large companies like Microsoft are working not so much on adding avatars, as on enhancing and perfecting video calls. Or in other tools such as Mesh, which make use of mixed reality, combining virtual elements with real images.
Back in Gather Town, Torres Gallardo guides the journalist to the roof of an office building. It is night, they sit in front of a campfire and the digital crackling of the flames can be heard. "It was on a map like this where a wedding was held," he says. It is hard to imagine a couple who wants to celebrate their marriage in this world, however modern it may be, but it is not the idea either. The metaverse, Torres Gallardo explains, does not want to replace the events of the physical world, but to humanize those of the virtual world. "What we seek is to improve virtual relationships, bring people closer," he says. And that, sometimes, involves turning coffee time into a game.
You can follow EL PAÍS TECNOLOGÍA at Facebook and Twitter or sign up here to receive our newsletter semanal.
---