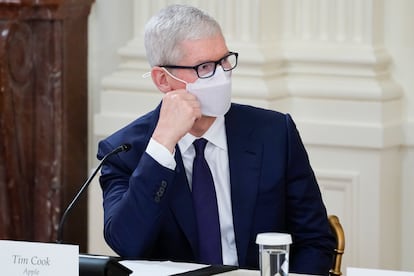 Apple CEO Tim Cook listens to US President Joe Biden at a meeting at the White House on August 25. Evan Vucci / AP
South Korea has become the first country in the world to jeopardize the lucrative fees that tech giants Google and Apple pocket through their app stores. A new bill will require Google Play and the App Store to include alternative payment systems to those of their own platforms, allowing users, for example, to pay program developers directly (software) for using their products.
South Korea's National Assembly gave the green light on Tuesday to an amendment to the Telecommunications Business Act of 2011, which seeks to prevent app store owners from forcing mobile content providers to use a specific payment method. . The new regulation is expected to take effect this September, once it has been signed by President Moon Jae-in, whose party has backed the proposal, according to the South Korean news agency Yonhap.
More information
The initiative also prohibits these platforms from delaying the approval of certain applications without a compelling reason, removing them in an "inappropriate" way, or forcing developers to guarantee exclusivity. In the event that they do not comply with the regulation, these virtual sales establishments may be fined up to 3% of the profits they generate in the country.
Han Sang-hyuk, chairman of the South Korean Communications Commission, believes the bill will become "a cornerstone for regulating application market platforms around the world," according to reports. The Wall Street Journal.
Tim Sweeney, founder of Epic Games, has described in his Twitter account the step taken by the Asian nation of "milestone in the 45-year history of personal computing". The American programmer last year challenged the hegemony of Apple and Google by introducing an alternative payment system within his popular game. Fortnite. Consequently, the Apple Store and Google Play removed the app from their platforms. Sweeney filed a lawsuit against both in August 2020 for monopolistic practices for which a verdict is still awaited.
Apple App Store Logo.Patrick Semansky / AP
There are few who, like Sweeney, believe that the income of the referred pair in this forced role of intermediaries is as exorbitant as it is unjustified. These two internet titans get a commission of between 15% and 30% of each payment for forcing developers to use their internal purchasing systems. This remuneration includes the processing of card disbursements, security, privacy, processing of returns and technical assistance, as well as the management of taxes and fees that firms must pay for sales or subscriptions. In response to the measure promoted by Seoul, the affected companies allege, as a negative element, that allowing other payment systems would put the security and privacy of user data at risk.
According to an investigation carried out by 37 US attorneys general against Google for monopoly on its app store, the company earned $ 11.2 billion in profits and $ 7 billion in operating income in 2019 through Google Play, astronomical accumulated amounts for payments within the applications and advertisements in the store.
Both Washington and Brussels have taken action against big tech through their antitrust laws. The European Union has proposed the Digital Markets Law, aimed at preventing the so-called guardians of the internet from abusing their position, while in the US there is also a bill presented to the Senate that pursues the same purpose.
In the face of incessant pressure, Apple last year reduced the commission of its App Store from 30% to 15% for those companies that do not generate profits exceeding one million dollars. Google took a similar step this almanac, also reducing to 15% the percentage to pay for the first million dollars that each developer billed annually in their application store. Last week, Apple went even further by announcing that it will allow developers to inform users of alternative external payment options.
South Korea, the most innovative country of 2021 according to the annual ranking published by Bloomberg, has a robust mobile app economy. The South Korean Mobile Internet Business Association estimates that domestic sales of mobile content reached 7.5 trillion won (US $ 6.5 billion) last calendar year and estimates that this year the market will grow more than 20%. The institution estimates that the total sales of the Google store were around 5 trillion won (about $ 4.2 billion) in revenue in 2020, while those of its Apple counterpart were around 1.6 trillion won (in around $ 1.3 billion).
South Korean President Moon Jae-in in a meeting with his Colombian counterpart, Iván Duque, in Seoul on August 25. YONHAP / EFE
In March, when it was already rumored that the Moon Jae-in administration planned to carry out this project, the Office of the United States Trade Representative criticized it in its National Trade Estimate Report: "The obligation to allow users to use payment services externalities seem imposed specifically to the detriment of US providers, and threatens a standard business model that has allowed South Korean content developers to reach global audiences. "
Ku Ki-bo, professor of International Trade at Soongsil University, believes that a trade war between Washington and Seoul is unlikely: "The US is reviewing measures against that market dominance, so I don't think the law will become in a problem for South Korea. Probably the regulation represents an opportunity for local technology companies that want to expand their presence in the market, "he said in an interview with the Yonhap agency.
The South Korean decision sets a precedent for those countries that have spoken out on the matter and are considering passing similar legislation. The immediate future will end up giving the reason to those who consider that this initiative will benefit the mobile applications market by enhancing competitiveness or, on the contrary, to those who defend tooth and nail the idea that, without the current (monopolistic) mediation Of the industry heavyweights, customers would not give up their payment details as they are doing to date, and many vendors' sales would dramatically decrease.
You can follow EL PAÍS TECNOLOGÍA at Facebook and Twitter or sign up here to receive our newsletter semanal.
---