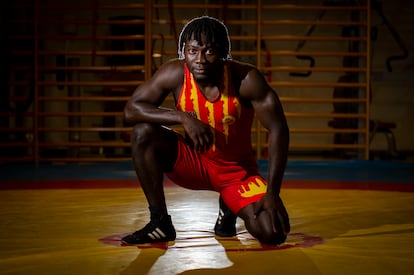 Alassane Laye Diop finally begins to believe in the future, in a dignified life, the one she did not have in Dakar, where she was born 20 years ago. Survival became impossible there. His work as a fisherman was precarious and increasingly scarce. The pay was not enough to avoid the misery, nor to help his mother, Khadi Mbengue, and his two brothers. Three years ago, he decided to give himself a chance in search of a new life. With the money he had earned over six months, he bought a plane ticket to Tangier. From the Moroccan city, when he was still a minor and together with five companions, he went to sea in a small inflatable raft. After nine hours of crossing they were rescued by a Maritime Rescue boat. From there until last May in Murcia, and after having excelled in the junior category, Alassane was proclaimed absolute champion of Spain in Olympic wrestling and began to see more closely the dream of succeeding as a high-level athlete.
After that maritime rescue in 2018, Alassane and his companions were treated by the Red Cross and taken to a Cadiz police station to proceed with their identification. "I have no money, I have nothing," Alassane repeated. Nor fear. "Life was so bad in Dakar that all I thought about was coming to Europe," he says. They asked them which city they wanted to go to. "To Barcelona," he replied. "I liked the soccer team. They paid us the bus ticket. They left us at the North Station, people from the Red Cross came and they took us back to the police station ". And from there, to a juvenile center in Montcada i Reixac and then to another in Viladecans. "I did everything, training courses in construction, gardening, animal care …".
For a time he was unable to practice wrestling, a very popular sport in Senegal, where it fills large stadiums. Until Kildaré Pérez, an educator in the center of Montcada and a fighter, took him to the Club de La Mina. This Barcelona neighborhood, built in the 1970s, suffered enormous degradation and for a time was a focus of drugs and crime. The film was shot there in 1977 Stray dogs, beginning of the genre known as cine quinqui, starring El Torete, delinquent and actor. The neighborhood, after a transformation plan, is now very different. The integration work carried out by social, cultural and sports entities has been fundamental. There is also the gymnastics club run by Gervasio Deferr, a gold medalist at the 2000 and 2004 Games.
Juan Carlos Ramos, president of the Catalan Wrestling Federation and former president of the club where Alassane trains under the command of Ossetian Tamerlan Gobaev, is sincere: "Sport took me off the streets. I experienced the worst in the neighborhood. I lost friends and acquaintances. But I was champion of Spain fighting cadet and that saved me ". And he adds: "For us, the Alassane case is a sporting and social success. The club is an icon of the city and has been proving for some time that sport is one of the best tools for the integration and education of young people. We have 60 licenses and we look like the foreign legion. We have earned a reputation. Athletes from all over the world come. We are a benchmark ". Ramos also trained Taymuraz Friev, an idol in La Mina, a Spanish nationalized Ossetian who competed in the Rio Games.
Alassane, who now depends on the support of the GEDI Social Initiative Cooperative, lives between joy over her sporting successes – "my mother is happy and proud of me" – and anxiety over her legal situation. "I don't have a work permit and if I don't get a work contract I could lose my residence permit," he explains. "Worth a lot. He is young and strong and is a good person. It's a shame that you can't get a hire. If we don't help these young people, they end up fatal ", concludes Ramos. Alassane's dream is to find work, continue living in Barcelona and triumph over the tapestry. It is their fight.
You can follow EL PAÍS DEPORTES in Facebook Y Twitter, or sign up here to receive our weekly newsletter.