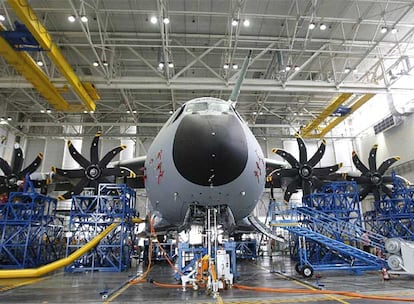 Spanish arms exports totaled 3,622.4 million euros last year, which represents a reduction of 10.4% compared to 4,042.3 million the previous year, according to the report on exports of defense material and dual use sent to Congress by the Secretary of State for Commerce and referred to Congress. The drop in sales of military equipment is in line with that of Spanish exports, but is lower than in sectors such as the automotive industry or capital goods.
The reduction in effectively executed exports contrasts with the spectacular increase in authorized operations, which totaled 26,551.9 million, 163% more than in 2019. This is due to the fact that the confinement imposed by the pandemic forced the delay of deliveries already agreed upon, but also because many operations authorized by the Government (an essential requirement to be able to materialize them) are long-term and will be carried out in the coming years. Only licenses for transport aircraft, components, spare parts, documentation and technical assistance linked to them total 15,500 million.
72.4% of defense material exports correspond to the aircraft category (which reflects the enormous weight of Airbus sales), while 77.3% are destined for EU or NATO countries.
These are some of the most notable operations:
Aircraft for NATO. The Netherlands was the first customer of the Spanish military industry last year with 668.5 million, although the buyer of the three refueling aircraft is not the Dutch Army but the NATO agency NSPO, which has ordered eight aircraft for 1,600 millions.
Ships for Australia. Outside of the EU and NATO, Australia was the largest buyer, with 256 million, largely corresponding to a logistics support ship. The Australian Navy has acquired two units from Navantia for 443.6 million.
Grenades for Saudi Arabia. The Saudi kingdom, bogged down since 2015 in the Yemen war, is the largest consumer of ammunition made in Spain. Riyadh's total purchases amounted to 48.3 million, of which 27 were ammunition. Riyadh received 91,925 60, 81 and 120 mm mortar shells and 84 60 mm mortars for 14.5 million. Although ammunition sales to Riyadh were frozen for more than a year, in 2020 contracts for 122.8 million were authorized. Among the largest buyers of Spanish ammunition last year there are other Gulf countries such as Oman (15.3 million) and the United Arab Emirates (8.2). The latter country, whose purchases from Spain total 27.3 million, is a member of the coalition that intervenes in Yemen.
Ammunition for Morocco. Spanish arms purchases by Rabat total 12.5 million, of which 10.2 correspond to ammunition (mortar grenades, plastic explosives), as well as tank chains and spare parts for aircraft.
Bombs for Iraq. The Iraqi army bought aviation bombs for 874,050 euros.
Hercules for Peru and Uruguay. Defense has sold four second-hand Hercules C-130 transport planes to Peru and Uruguay for 24 and 20.9 million respectively.
Night vision for Colombia. Bogotá has paid 3.2 million for spare parts for armor, aircraft parts and night vision equipment.
Sensors for Israel. Sales to Israel totaled 477,288 euros and included weighted bomb bodies for practice, night vision equipment, sensors and engine components from a European plane.
Veto a Myanmar. The only banned operations of military material affected Myanmar, the former Burma, subject to embargo by the EU, and concerned a platform control system, a closed circuit TV and an anti-missile system for a frigate for 22 million.
Police teams. Sales of police equipment amounted to 1.8 million euros. The first client was Peru, with 0.9 million (riot control devices), followed by Togo, with 0.6 (tear cartridges). The export of 1,570 tear gas grenades for the Thai police was denied for 401,000 euros.
Hunting weapons. Hunting and sporting arms exports amounted to 50.9 million euros. The first destination was the USA (19.2), followed by Ghana (9.9). The sale of 1,200 rifles to Russia was banned for 1.2 million.
From Bosnia to Cuba. Exports of dual-use products (civil and military) totaled 139.1 million, with a drop of 39% compared to 2019. The best clients were Mexico, Colombia, Saudi Arabia, the United States, Chile and China, with 44% of the total. Denials were numerous and affected Ukraine (two licenses), Macedonia (two), India (one), Pakistan (two), Russia (one), Georgia (one), China (three) and Israel (four). An intermediary from Bosnia to Cuba was also denied to sell non-electric detonators for 20,000 euros to a company dedicated to the sale of arms.