As we begin to experience what drought, ocean acidification, animal species extinction and global warming are going to do, it's not hard to see what it takes. We now hold in our hands the fate of the generations of people, animals and plants that come after us. We can really screw up the world of our grandchildren and great-grandchildren if we are unable to see a greater ideal than our short-term interest.
But it is not made easy for us.
Simply put, there are two tastes: you can see that how we live is bad and harmful. You can feel guilty about that, but it also leads to a lot of resistance. After all, you want the best for your children, your loved ones or your company or party, right? So we feel attacked. Or just not addressed.
Another insight is the fact that industry, livestock and aviation pollute immensely and that it is therefore a matter of tightening rules, fine polluters and apply prices that include the costs of pollution. Thus the problem becomes something that goes on far beyond us.
In both situations there is separation. We separate our own lives from the rest, we separate the short term from the long term, and we can get on with how things are going: we follow our impulses, take care of what is close and tangible, and forget to ask other questions.
Matter of taste
For example, countless citizens oppose plans to build new windmills. For good reasons: windmills change the landscape, can cause noise pollution and very occasionally a rare vulture flies in a sail.
And how beautiful are windmills really? I do get a feeling of joy when I see a whole row of elegant windmills spinning. The patterns of their blades, the rhythm with which they dance together and then gradually drift apart; it's like music.
My feeling is more than a matter of taste. It also arises because of the story. The idea of ​​human genius to convert natural forces into electricity that makes our lives so beautiful. The history of sailing the world's seas and the reclamation of the polders. That's deep.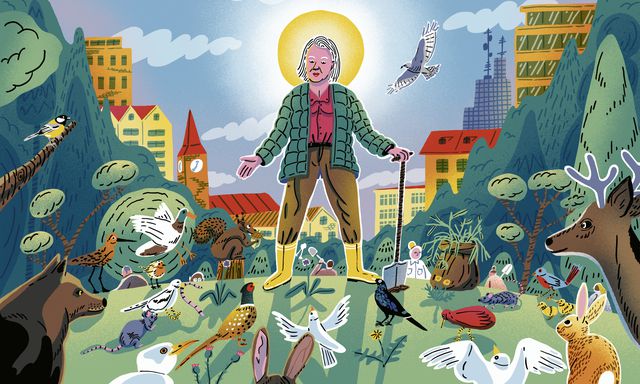 Also read this short story by Nicolien Mizee: Strike the buzzard down again

But when decisions from above come that are announced unexpectedly, coldly and distantly, I understand the resistance to new mills. And that such a windmill should be built right next to your village also feels unfair. How nice it would be if every Dutchman had to endure a proportional piece of steel factory dust, highway rumble, pigsty or swish. But it does not work like that.
What we do share are stories. In this we experience how the fight against water united us and how democracy emerged at the water boards. We celebrate heroes of the Elfstedentocht, sing about wide rivers and paint the beauty of harsh winters. You will not find these stories, images and symbols in the documents of the Regional Energy Strategy or National Environmental Vision. But they are essential for turning big, abstract things into value that you can feel.
Bigger story
The urge to battle windmills comes from genuine concern. And without brave and concerned citizens, our country would already have lost much value and beauty.
But we forget to ask that one question: what is a good world? And the other equally less so: what is important for future generations?
These questions require a different approach than the participation procedures and political struggles that now take up so much energy, but above all a lot of time. We don't have that time or energy.
The beautiful landscape we so desperately want to protect will be flooded when the polar caps melt. The wealth of animals and plants collapses when it gets drier and warmer. The lives of our great-grandchildren become hard when they have to flee from the water.
That is not abstract or inaccessible. We are part of a bigger story, and we can bring it to life, tell and share it.
Who helps us with this? Why are writers, poets, musicians and media makers practically absent from this story? Why is there never a debate about the Netherlands of 2050 in the House of Representatives? And finally: how can we experience what is really important?
Because let's be honest: we have it good. There has never been so much prosperity, technology, prosperity. We can afford to look beyond the coming years and our backyard.
And we will dismantle that windmill again as soon as other energy sources have been developed. Unless the local residents are strongly against it.