"I've wanted to be free all my life, but I haven't even had a chance to free my little toe."
So begins Second place, the new novel by Canadian-British author Rachel Cusk. The I person, known as M, describes leaving Paris and meeting the devil on the train, a 'yellowish, puffy' figure with 'greenish, bloodshot eyes'. This being, chasing her, represents the evil that could lurk undisturbed beneath the surface for a long time. Now, all of a sudden, the hair is staring straight in the face. And that monster, the actual physical presence of which is questionable, that's true Second place about: the destructive power of the inner self.
Just as elusive as the monster is the protagonist himself. Earlier, Cusk wrote an autobiographical trilogy in which the I-person remained in the background and also in Second place the narrator – caught in a permanent stream of thought addressed in letter form to a certain 'Jeffers' – is barely visible. This is due to the typical Cusk writing style: M makes the reader a part of her most intimate thoughts and yet it is hardly possible to imagine her.
Yes, we know that this woman is divorced and lives with her second husband Tony in a remote wetland where they have a 'Second Place' next to their house: a temporary shelter for artists. And that this M, in her quest for freedom, has so far not been able to show her 'true self'.
The latter is an autobiographical fact that keeps recurring in Cusk's work. In previous novels and in her collection of essays Coventry (2019), in which she describes in an essay of the same name how she was hushed to death by her parents at regular times in her life for no apparent reason, 'not being there' is an important theme. This novel also revolves around this issue. About her life with Tony, her daughter Justine and son-in-law M writes: 'Everyone lived completely happy in themselves, I think. Only I wandered around like a wandering ghost, cast out of the home of my self to be ravaged by all the words, moods and whims of others. '
Also read the review of her other novel 'Kudos': It's time for revenge on the reader

Controversy
In confrontation with her 'hidden self', M tries to define herself through another and loses herself in the process. In case of Second place from this quest finds herself in a conflict. M is fascinated by the artist L whose paintings she saw in Paris, which is why she asked him to come and live on the estate for a while. L accepts the invitation and moves into the second house together with his younger girlfriend Brett. Their presence triggers a lot in M, because L is not just anyone to her, he represents that oppressed freedom, or 'the devil' that lies within her.
Thus we find out that, when she accidentally stumbled upon rooms full of paintings by L in Paris, she felt an intense affinity that the images had evoked in her, 'as if I had suddenly discovered my true origin. They had made me feel like I was not alone with what I had hitherto kept as a secret to myself. '
By inviting L, she hopes that the artist will approach her based on what she felt in Paris. "I wanted to be recognized by him, because as grateful as I was for Tony or Justine and for my existence on the swamp, my individuality has tormented me all my life with that need for recognition."
Only I roamed
But once confronted with the artist, she sees that his art turns out to be anything but an extension of his person or vision of life. On the contrary. L is a narcissist, a man who struggles with his diminishing virility and denies his impermanence. And, even worse, does not see her at all, with the result that she looks even harder for his confirmation. All this leads to a dramatic climax, after which M gradually recovers and evaluates her relationship to both men with a sober outlook. Tony accepted reality and saw his place in it as something for which he was responsible; L resisted reality and constantly tried to free himself from its limitations, which meant that he did not consider himself responsible for anything. And my own desire to be caressed and comforted (…) lay somewhere in between. "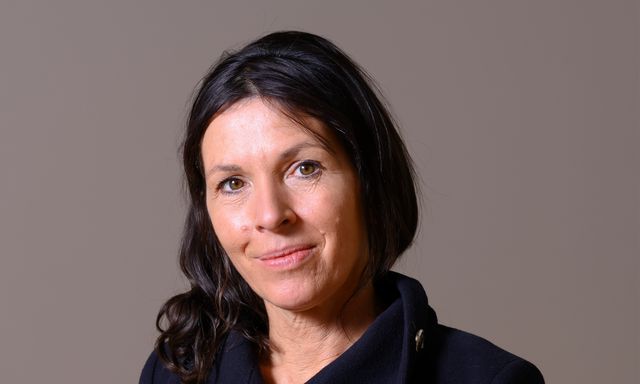 Also read the interview with Rachel Cusk: 'I've lost my sense of humor'

Inner freedom
Second place is another true Cusk novel about the shortcomings of being human. Fans will appreciate her philosophical reflections, sometimes the I person goes very far in her self-analysis. But Second place also intrigues because of the elusive, mystical side of art. Just like in Narziss en Goldmund, the famous work of Hermann Hesse, Cusk explores the mysterious workings of a work of art on the human soul. She also asks questions. Is it possible to view a work of art in order to understand who you 'really' are? And is the maker then the one who shares your vision of existence, or is that an illusion? In fact, M wants nothing more than to be absorbed, through the recognition of L, in the feeling that she can finally become one. The longing for symbiosis that Aristophanes already (jokingly) refers to in Plato's Symposium. Only, of course it only remains with that desire.
Ultimately, the way L looks at her has nothing to do with how she sees herself. She is therefore left with her imperfect self. And therein lies a deeper truth: the way to inner freedom does not go through the other. It's up to M to put herself in the world. In the end she also expresses this in what may well be the core of Cuskian thinking: 'Why was it so difficult to live with people day in, day out and still remember that you were separate from them and that this was your only life as a mortal? '
A version of this article also appeared in NRC Handelsblad of 28 May 2021
A version of this article also appeared in NRC on the morning of May 28, 2021