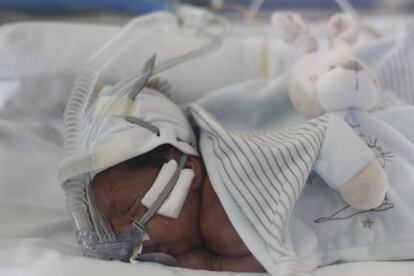 When a child is born prematurely, pediatricians measure its evolution not in terms of chronological age but corrected, that is, that they subtract from the months that those who lacked gestation have. Thus, it is not considered that there is any problem because they sit later or walk later. However, the same criteria are not followed at school, so many children are forced to enter school when they are not really old yet. In Madrid, as is already the case in other communities such as Extremadura and Castilla y León, that problem is over. The regional government has announced this Thursday that it will allow these minors to go to school in a lower grade, provided that the measure is justified, and that it may be done in any of the three courses of the first cycle of Early Childhood Education.
Thus, students from 0 to 3 years old who were born prematurely before 37 weeks of gestation and in the last four-month period of the year will be able to take a course below that which would correspond to them by birth, taking into account their corrected age. Of course, a prior authorization will be necessary. Parents or legal guardians will have to request permission, according to a model that will be attached in the order of the Ministry of Education and Youth regulating the measure of permanence of one more year in the first cycle of the stage of Early Childhood Education in the Community of Madrid. According to sources from the Ministry, said order will be published "shortly" in the Official Gazette of the Community of Madrid.
Pediatrician justification
The request must be accompanied by a report from the pediatrician stating and justifying that the schoolchild is premature, with the history of the corresponding neonatal unit in which the child was admitted. The application may be submitted throughout the school year and until June 15 of each year. The resolution that is favorable will have "immediate effects", if it participates in the extraordinary process of schooling and for the following year, if it is in the ordinary one and is presented as attached documentation together with the application for admission.
It will depend on the territorial area management (DAT) of the area where the school is located which must authorize or reject this "exceptional measure, after a favorable report from the Educational Inspection Service", the same sources add. The measure "will expire ex officio in the year in which the student reaches the age of three, if it is not determined that he has" special educational needs. " Thus, from the second cycle of Infantile, students will join the corresponding school year according to their chronological age.
The struggle of Candela and Valentina's parents
Candela and Valentina have a lot to do with this achievement for all premature babies in Madrid, who should have been born in February 2017, but which, as occurs in 48% of twin births, according to the Madrid Association of Multiple Births (Amapamu), came forward and came to the world in December 2016, with 28 weeks. Their parents began a struggle that led them to contact deputies from Podemos and to get the Madrid Assembly to ask in February 2019 that parents be allowed to choose the school year of premature babies. For Candela and Valentina, the news comes late, since they had to start school in September of that year when, if their corrected age had been taken care of, it would have been last September.
Her father, Jaime Delgado, explained to this newspaper that his daughters were not prepared and that they were "very young for toilet training, in psychomotor development, in speech." Today, Delgado is happy to have achieved it, says Concepción Gómez Esteban, from the Association of Parents of Premature Children (Aprem), who has been in this war since 2018. "We have achieved it thanks to them and the work of many people. We have met with everyone and we have even written to the vice president of Madrid and the vice president of PP ", Pablo Casado, father of a premature child.
The Ministry has not calculated how many children will be eligible, but Gómez points out that it would be between 60 and 140 a year only in Madrid. Aprem points out that arriving to school early supposes for these minors "practical problems, such as the diaper" and "premature babies do not want to go to school because they mess with them and develop nervous tics due to the enormous pressure to which they are subjected ". "You may even be developing a future school failure, or end up repeating the last grade of Infantile because in many cases there is a great maturation gap", he concludes.
Subscribe here to our new newsletter about Madrid