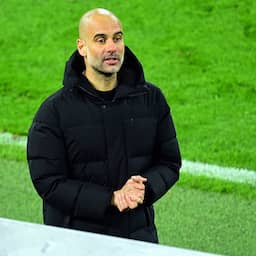 Pep Guardiola thinks it is very special that he can play with Manchester City in the semi-finals of the Champions League on Wednesday. The Spanish coach believes that everyone at the club should not forget to enjoy the diptych with Paris Saint-Germain.
Since City was taken over, the semi-final has been reached once so far. That was in 2016, when the way to the final was blocked by Real Madrid. Now the six-time national champion gets a new chance.
"We have to enjoy the pressure and the situation we are in. We are not yet part of the elite in the Champions League, but we want to. We are fortunate to be where we are now," Guardiola said at his press briefing. the run-up to the first leg against PSG.
"I am incredibly happy that we can travel to Paris with this club. And then we can go to Crystal Palace again to try and win one of the two victories we still need for the national title."
Guardiola has already won the Champions League twice as coach of FC Barcelona. "It's the best prize. Everyone is fit, everyone is ready. We are very grateful for this opportunity. For some clubs this is normal, but for us this is new."
The match between Paris Saint-Germain and Manchester City starts on Wednesday at 9 p.m.
View the results and the program in the Champions League
.